Underlying health disparities, including poorer medical treatment and lower access to healthy food, have detrimental impact on Black populations, who have higher rates of diabetes, cancer, heart disease, and overall mortality in the United States compared to White populations.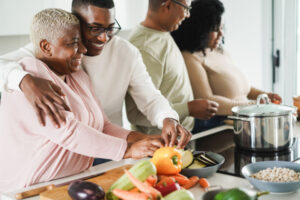 Data captured by the National Health Interview Survey found that Non-Hispanic, Black adults were 60% more likely to be diagnosed with diabetes and 50% more likely to have a stroke compared to Non-Hispanic, White adults. Black adults were also 50% more likely to die from diabetes, 30% more likely to die from heart disease, and 10% more likely to die from cancer. Longitudinal research has found that Black adults eating a plant-based diet were over 22% less likely to develop cancer and had a 36% lower all cause mortality rate compared to the US population.
Find more information on the research statistics, as well as recommendations for how to address these health disparities, on the Physicians Committee for Responsible Medicine website: https://www.pcrm.org/good-nutrition/healthy-communities/black-health.
"Racial injustice has highlighted systemic disparities in health care, risk, and death among Black populations in the nation's top causes of death, including cancer, heart disease, diabetes, and brain health."
Laura Bustard is an actuary who is passionate about plants. She has conducted research on the emergency food system and prescription-produce, and recently worked for FairShare CSA Coalition in Madison, WI. She now lives in Goleta, CA, and works remotely for The Standard, holding a Masters of Science in Urban and Regional Planning and a Fellowship from the Society of Actuaries.
The gut microbiome is composed of trillions of beneficial and potentially harmful bacteria (such as E. coli), viruses,...
Supporting Our Work - We're currently an all-volunteer organization and we see incredible room and need to grow over the coming year. We understand that this time has enormous challenges for everyone, so while we'll be seeking support to help roll our vision forward, we're also thinking creatively to keep our costs low to efficiently build resources and deliver programming at low to no cost to our community. If you'd like to support our work, we hope you'll consider making a donation to one of our giving programs through our community partner, the Santa Barbara Foundation!