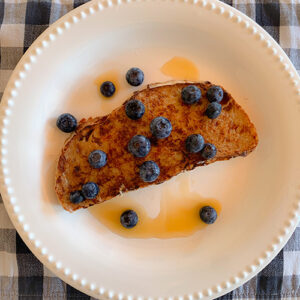 Tofu French Toast
When it comes to shifting to a plant-based way of eating, breakfast seems to be the most mysterious meal. Eggs, bacon, and cereal with milk are at the heart of the standard American breakfast - it can be hard for most of us to reimagine what it means to eat plant-forward in the morning. Fortunately for us, there are lots of options! From replacing eggs with tofu scramble to enjoying classic oatmeal with fresh fruit and nuts, you can make just about anything more plant-forward. Today, we have the perfect breakfast recipe developed by local Nutritionist Christina Wood - Tofu French Toast!
Ingredients
8

ounces

silken tofu

1/2

cup

plain soy milk

1

tbsp

maple syrup

1/4

tsp

nutmeg

1/2

tsp

cinnamon

6

or more slices whole-grain bread

cut diagonally or into fun shapes
Instructions
Blend all ingredients except for the bread.

Dip the bread slices into the mixture and cook in an oiled skillet on medium-high heat on both sides until browned.

Serve with 100 percent fruit puree or slices of your favorite fruits!
Notes
Christina (Schmidt) Wood, MS is a nutritionist and certified nutrition educator who has been featured on NBC's Today show and has been published in numerous nutrition magazines. She is the author of The Baby Bistro and The Toddler Bistro books. She lives in Santa Barbara, CA.