Rooted Santa Barbara County hosted our first community open house – Rooted In Community – on Saturday, October 14, 2023 at the Community Arts Workshop!
This special event celebrated the power of community, plant-based foods, and local culture, bringing together residents, businesses, and organizations in the Santa Barbara area to learn about the opportunity for foods like fruits, vegetables, legumes, whole grains, nuts and seeds to benefit health and gain simple, accessible, culturally-diverse ways to enjoy them. Featuring live English and Spanish recipe demos in the Rooted In the Kitchen Workshop, Rooted educators were joined "in the kitchen" by partners from the Foodbank of SBC, Breast Cancer Resource Center, Apples to Zucchini Cooking School, and Sansum Diabetes Research Institute and prepared simple, tasty, culturally-diverse recipes like Vegetable Enchiladas, Horchata Oatmeal, Hummus and "eat the rainbow" veggies, Quinoa Buddha Bowls, and Chocolate Chia Pudding. Attendees were able to enjoy the demos in English or in Spanish thanks to simultaneous interpretation from Bridging Voices – Uniendo Voces. Download the recipes here!
The event also featured a beautiful interactive chalk mural that kids and adults alike creatively colored throughout the event and kid-friendly activities in "Eat the Rainbow Alley" with Apples to Zucchini Cooking School.
The Plant-Powered Canteen featured scrumptious plant-based bites to sample from celebrated local restaurants including Rascals Vegan, Satellite, and more in the Plant-Powered Canteen! Offerings included Tomato Basil Soup, Spicy Elote, fresh fruit and herb mocktails, and Fried Rice.
Later that evening, community members gathered for the documentary "The Game Changers" a revolutionary new film about plant-powered athletes and meat, protein and strength produced by James Cameron, Arnold Schwarzenegger, Jackie Chan, Lewis Hamilton, Novak Djokovic and Chris Paul. A warm welcome from TV Producer and Host JD Roth set the tone for the evening, encouraging guests to start wherever they are adding even one plant-based meal a week. A craft popcorn selection and mocktails and natural wines were served up by farm-to-table restaurant Satellite.
Rooted's generous partners and sponsors making this event possible included: Mosher Foundation, Santa Barbara Foundation, Cottage Population Health, Bridging Voices-Uniendo Voces, Plant2Platter, Foodbank of Santa Barbara County, Breast Cancer Resource Center, Apples to Zucchini Cooking School, Sansum Diabetes Research Institute, The Blue Owl, Satellite, Rascals Vegan, Farm to Bar, Sun and Swell Foods, and Eji Experiences.
To learn how you can get involved and support growing preventive health and plant-forward nutrition programs in our community, and stay tuned for future events, visit our donate or volunteer pages, contact us at hello@rootedsantabarbara.org, and sign up for our email list here!
Photo Credits: Romi Ramirez, MBA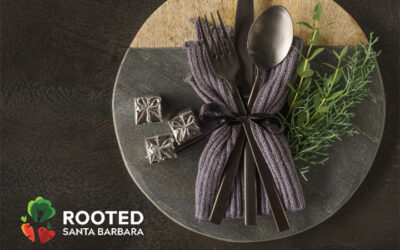 ​The holidays are coming! And while this year's celebrations will look and feel a little (or a lot) different than...
Supporting Our Work - We're currently an all-volunteer organization and we see incredible room and need to grow over the coming year. We understand that this time has enormous challenges for everyone, so while we'll be seeking support to help roll our vision forward, we're also thinking creatively to keep our costs low to efficiently build resources and deliver programming at low to no cost to our community. If you'd like to support our work, we hope you'll consider making a donation to one of our giving programs through our community partner, the Santa Barbara Foundation!