Sweeten up your holiday season with this sweet potato pie recipe!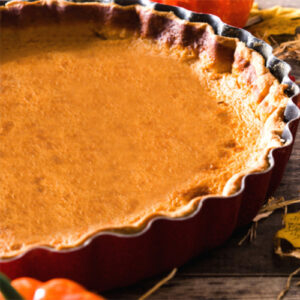 Sweet Potato Pie
Ingredients
Crust Ingredients
1 ¼

cup

fine almond flour

1/3

cup

arrowroot powder

2

tbsp

flaxseed meal + 5 tbsp water

let sit for 10 min

¾

tsp

salt
Filling Ingredients:
1 15

oz

can of pumpkin puree

1

cup

of baked sweet potato

½

cup

of maple syrup

¼

cup

of non-dairy milk

1

tablespoon

of pumpkin spice

1-

teaspoon

vanilla extract
Instructions
Directions for Crust:
Combine the flaxseed meal and water and let sit for 10 min.

Whisk the almond flour, arrowroot flour and salt in a large bowl, add the flaxseed meal and mix to form dough. The dough should be damp but not sticky.

Place the dough between 2 sheets of parchment paper and flatten it with a rolling pin.

Remove the top parchment paper and gently flip the dough into your pie tin, using your fingers to press down before removing the second parchment sheet.

Place the pie tin in the freezer for 20 min.

Place pie weights (or dried beans) on top of crust, cover with foil, and bake at 400F for 15 min.
Directions for Filling:
Combine all the filling ingredients into a blender and blend until smooth.

Pour into the pie crust.

Bake pie for 15 min at 425F, reduce the heat to 350F and bake for an additional 40-45 min.

Let it cool, preferably overnight.

Optional: Serve with coconut whipped cream or plant-based ice cream!
Notes
Recipe Provided by:
Daniela Cadavid; adapted From My Bowl and Feasting on Fruit