Rooted Santa Barbara County and the American College of Lifestyle Medicine (ACLM) have launched a groundbreaking local partnership to expand preventive health education and resources for Santa Barbara County health workers.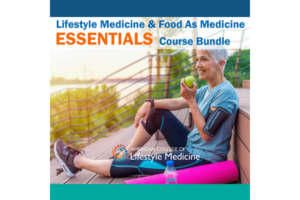 Chronic diseases, as the leading cause of death and disability in the US, are a source of frustration for health care professionals and patients alike.  Health care professionals feel ill-equipped to curb the epidemic levels, while symptom management creates a vicious and extended disease cycle for the patient. Formal medical education and training simply do not include foundational tactics that address the root causes of many chronic conditions.
The first recommendation in chronic disease guidelines, across the board, is lifestyle modification. Yet, the average physician receives only 19 hours of nutritional education in medical school,1 which is below the recommended 25 minimum hours from the National Academy of Sciences.2 Professionals must look to continuing education to bolster their knowledge and skills, empowering patients to adopt transformational habits affecting their health.
Rooted has partnered with the American College of Lifestyle Medicine to alter the dynamic in Santa Barbara County and offer the healthcare workforce more tools to combat chronic disease and health disparities.
In addition to offering locally-focused nutrition and food skills programs and resources aimed at growing health equity and resilience county-wide, Rooted is working with ACLM to expand training opportunities and tools for local healthcare workers. Santa Barbara County health providers can now access ACLM's "Lifestyle Medicine and Food as Medicine Essentials" course, a 5.5-hour online CME/CE opportunity valued at $220, for free through August 15, 2023. Participants will receive a foundational, evidence-based introduction to the field of lifestyle medicine and engage in focused nutrition education for the prevention and treatment of chronic disease. Full accreditation information provided here.
"ACLM is proud to help Rooted make this investment in Santa Barbara County health professionals," said ACLM President Beth Frates, MD, FACLM, DipABLM. "Treating the root cause of chronic disease in this country, and especially lifestyle-related chronic disease health disparities, will positively change the trajectory of both quality of life and health costs.  We applaud Rooted Santa Barbara County's commitment to its community and its healthcare leaders and for recognizing what an impact they can make through this initiative ."

The training package illustrates six key interventions to treat lifestyle-related chronic conditions based on clinical practice guidelines. It is designed to equip physicians and healthcare professionals with the knowledge and tools to support treatment and risk reduction of common lifestyle-related conditions, with a focus on cardiovascular disease, insulin resistance, cancer prevention, and obesity.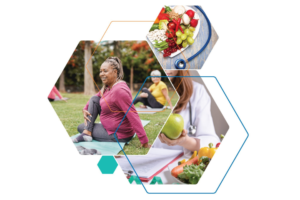 "We're honored to partner with ACLM to expand their multi-million dollar commitment to the White House Conference on Hunger, Nutrition and Health to our community and bring essential training to our County's healthcare workforce," said Beth Skidmore, MSACN, Chair of Rooted. "Rooted launched as a collaborative hub to bring preventive and plant-forward nutrition education to our community, and a key part of our work is to equip our healthcare workforce with essential nutrition and lifestyle training and accessible bilingual tools and resources for both clinicians and their patients. We encourage every county healthcare worker to take advantage of this exciting opportunity to augment their training and toolkits by gaining a foundation for a preventive health approach and food as medicine. "

If every estimated 27,500 Santa Barbara County Health Worker enrolled in the program, the investment in our community health providers' education will total $6 million. County health providers can access the course, code to register for free, and sign up to stay connected for a growing range of preventive nutrition programs and resources for healthcare professionals and patients alike at https://rootedsantabarbara.org/for-healthcare-providers/.
"I am so grateful for Rooted Santa Barbara County for providing the opportunity to educate our local healthcare providers on using food and medicine. This provides essential access to evidence based dietary interventions that can allow us to treat chronic disease through a plant centric approach".  
– Vanessa Atyabi, DNP, FNP-BC, Assistant Professor, Nursing, and Family Nurse Practitioner Coordinator, CSU Channel Islands and Nurse Practitioner SB Neighborhood Clinics
"I've seen a profound evolution in medicine over my 30+ years as a physician and I'm thrilled to see the lifestyle medicine movement expanding in our community. Lifestyle is a critical component of patient health and supporting our patients in how to adopt healthy lifestyle practices is an essential tool. Rooted is leading a meaningful local movement in healthcare to grow health equity and resilience through nutrition and lifestyle resources for healthcare providers and patients alike. Their partnership with ACLM will provide an essential and accessible training opportunity to equip our local healthcare leaders with more tools to improve health outcomes, prioritize preventive care, and help our community members live their best lives."
– ​Frederic C. Kass, MD, JD, MPA, Assistant Clinical Professor, Division of Hematology/Oncology, UCLA Health
"LVCHO believes a healthy community is a better community on virtually every measure of success and that healthy living should be within reach of all people. We applaud this initiative that will improve the health of our communities. Upstream interventions in health are changes that can be made before chronic diseases and complications ensue. Early habit changes can result in improved health outcomes downstream, limiting or eliminating the need for interventions such as hospital stays, surgery or chronic disease management medications. Traditionally upstream interventions have been left for community service agencies, businesses and personal choice. Downstream interventions have been left for those in the medical community. This dichotomy has proven ineffective. An exciting step in bridging this divide is Rooted Santa Barbara County's work bringing healthy lifestyle and nutrition education through ACLM to our local medical community."
– Ashley Costa, Executive Director, Lompoc Valley Community Healthcare Organization

"After decades of providing  dietary guidance and care to patients burdened by chronic diseases, I was left with wanting more for my patients. Lifestyle Medicine is an approach that gets to the root cause of chronic disease. It is exciting to experience this renewed, common sense approach.  It is a paradigm shift to viewing wellness and, in many cases, reversal of many diseases that are currently treated primarily by medications. Patients and providers deserve training in the pillars of wellbeing that make a difference. Lifestyle Medicine offers that and has completely changed my approach to working with patients in achieving better outcomes. I'm proud of our work at Rooted and our partnership with ACLM to support our healthcare workforce and catalyze a local shift to prioritize plant-predominant nutrition and lifestyle in both preventive and treatment-based care."

– Jen Swartzentruber MS, RDN, CDCES, Registered Dietitian Nutritionist, Certified Diabetes Educator, Rooted Santa Barbara County Board Member and Education and Strategic Partnerships Lead
DEFINITION OF LIFESTYLE MEDICINE

Lifestyle medicine is a medical specialty that uses therapeutic lifestyle interventions as a primary modality to treat chronic conditions including, but not limited to, cardiovascular diseases, type 2 diabetes, and obesity.  Lifestyle medicine certified clinicians are trained to apply evidence-based, whole-person, prescriptive lifestyle change to treat and, when used intensively, often reverse such conditions. Applying the six pillars of lifestyle medicine—a whole-food, plant-predominant eating pattern, physical activity, restorative sleep, stress management, avoidance of risky substances and positive social connections—also provides effective prevention for these conditions.


VALUE PROPOSITION FOR LIFESTYLE MEDICINE

Lifestyle medicine can address up to 80% of chronic diseases. A lifestyle medicine approach to population care has the potential to arrest the decades-long rise in the prevalence of chronic conditions and their burdensome costs. Patient and provider satisfaction often results from a lifestyle medicine approach, which strongly aligns the field with the Quintuple Aim of better health outcomes, lower cost, improved patient satisfaction, improved provider well-being, and advancement of health equity, in addition to its alignment with planetary health. Lifestyle medicine is the foundation for a redesigned, value-based and equitable healthcare delivery system, leading to whole person health.
ABOUT AMERICAN COLLEGE OF LIFESTYLE MEDICINE
As the nation's only medical professional association representing the interdisciplinary field of lifestyle medicine, the American College of Lifestyle Medicine represents a galvanized force for change; members are united in their dedication to identify and eradicate the root causes of chronic disease, with the clinical outcome goal of health restoration.  ACLM closes the gap in evidence-based education in lifestyle medicine across the spectrum of pre- and post-professional training.  Along with training and support of its members in their individual practices, ACLM advocates lifestyle medicine as the first and optimal whole-person treatment option for all people, mitigating much of the non-communicable, chronic disease epidemic.
ABOUT ROOTED SANTA BARBARA COUNTY
Rooted is mobilizing Santa Barbara County to grow health equity and resilience through whole food plant-based nutrition education and support. Rooted launched to fill a gap in our local healthcare and food sectors to address the nutrition-related health crisis that has grown and persisted for decades. With a priority to serve residents with the greatest barriers to good health and the healthcare and direct services that support them, Rooted equips community members with the knowledge, tools and support to improve health with plant-forward lifestyles. Through accessible, bilingual nutrition and food skills education programs and healthcare and direct service partnerships, we strive to reduce the burden of chronic disease and help county residents eat to thrive. Rooted proudly partners with the American College of Lifestyle Medicine to bring professional development training opportunities and resources to healthcare providers throughout Santa Barbara County.
1  Radlicz C. A Time for Change: Nutrition Education in Medicine. ASN. 2017; https://nutrition.org/a-time-for-change-nutrition-education-in-medicine/.
2  Danek R. Perceptions of Nutrition Education in the Current Medical School Curriculum. Fam Med. 2017 Nov;49(10):803-806.