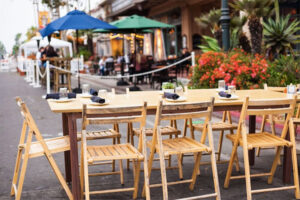 With the Santa Barbara Vegan Chef Challenge launching more plant-centered options on local menus this month, we wanted to take a moment to talk about how to dine out plant-based the other eleven months of the year – and offer some tried and true tips for eating as close to whole food plant-based at restaurants as possible!
It can take a bit of effort to find your flow at first, and sometimes it can feel a little overwhelming. Being "that person" might feel uncomfortable at first – but know that you're not alone and it does get easier! The worldwide shift to eating a more plant-centered diet is well underway. The more of us that make positive, health-conscious shifts, the more accommodating restaurants will become. It's hard to NOT find a completely plant-based or vegan option on menus in Portland, Seattle, Los Angeles, Las Vegas, New York and we know this will become the norm, even here in Santa Barbara, in due time!
If you're new to eating plant-based, check out our previous article Transform Your Health With a Plant-Powered Plate: The Basics. In a nutshell, when you're dining out plant-based, you're looking for options made from whole grains, legumes, fruits, veggies, nuts and seeds and that omit animal-based foods like meat, poultry, pork, fish and seafood, dairy, eggs, and gelatin. So how do you find these delicious plant-filled options on restaurant menus? Here is a collection of tips from our Plant-Based Pros to make it easier to find delicious plant-based options whenever you dine out.
Check the Menu Before Going
This will save a lot of time and heartache – find dishes that sound like good options, but remember, there are often hidden ingredients, so…
Call Ahead
Calling ahead of time is a great way to get the lay of the land so you can feel confident when you arrive. Ask what vegan-friendly dishes they have, if you're calling well in advance, some chefs will even make a special meal for you. If you've already scoped out your ideal menu item, confirm that it's available and that it can be prepared how you'd like it!
Finding the Plant-Based Options
Menus these days often have a V or plant mark next to vegan or vegetarian options. Give the menu a scan and see if there's a key at the bottom or the top that can help you navigate.
Modifications
Easy subs and adjustments can often be made by simply omitting meat and cheese and adding vegetarian beans, avocado, and subbing for or upping the veggies. Please remember, that some items are pre-made and cannot be altered but most restaurants will happily remove cheese or meat toppings and happily charge you extra for adding beans, avocado or steamed veggies! (But see if they'll swap it first!)
Shopping the Sides
The a la carte or sides menu often has the best deals and options – a side of rice or potatoes with steamed veggies, etc. is almost always an option in a pinch.
Getting Help from your Server or Talking to the Chef
Don't be afraid to ask for help navigating the menu and double-check that an item is totally animal-free and isn't cooked with butter or dairy. Most servers are prepared these days to answer questions but sometimes there is confusion as to what plant-based is so saying vegan can often help clarify this. Take note, there are still many people who think dairy is vegan or forget that a dish has cream or butter in it, so don't be shy to clarify!
Finding Totally or Predominantly Vegan/Plant-Based Restaurants
Download the Happy Cow app, search vegan restaurants on Google maps, do a hashtag search for #vegansantabarbara or #plantbasedsantabarbara (or wherever you are) on social media, ask friends for recommendations!
Ensuring Whole Food Plant-Based (all plants – no oil)
If choosing to be completely WFPB, it's perfectly acceptable to request your food to be cooked without oil and instead cooked in water or steamed, and for any sauces to be served on the side. You can always ask for pure vinegar or lemons for dressings. Again, this is often best handled with an inquiry in advance directly with the kitchen but many restaurants are happy to accommodate on the spot!
Hidden Ingredients
There are often animal-based ingredients in foods you wouldn't even suspect, so it's always a good idea to check! Some examples: soups often have chicken stock, butter, or cream in them. Mexican restaurants traditionally cook beans with lard (pork fat) and rice with chicken stock. Yes, even the ones that "appear" to be vegetarian dishes often still have these two hidden ingredients in them. Fish sauce can be in condiments. Eggs in fresh pasta. Dairy in breads & crackers. Bones/Gelatin in marshmallows and many other candies.
Travel the World
Eating a plant-based diet may seem like a new trend but the truth is, the first known instance of people abstaining from eating meat was the Pythagoreans – yup, we're talking ancient Greece here, 6th century B.C. With that in mind, you'll soon discover that the Standard American Diet is really the only one that is meat dominant – you'll have a much easier time finding delicious foods free of animals and their by-products in Japanese, Thai, Indian, Lebanese, Italian and other Mediterranean-style restaurants.
While ideally, most restaurants would have abundant plant-forward dishes, change is happening and as more folks request these types of dishes, chefs are offering more options! Ask for what you want. If a restaurant is unable to accommodate you, there are many other restaurants that are more than ready to do so.
If you're dining through the fun array of plant-based options available during the Vegan Chef Challenge, please note that many will likely be vegan more than whole food plant-based. Be sure to double-check with the restaurants in advance if you're looking for whole food, low-to-no oil options. We are so excited to see the challenge return for the 2nd year in a row and have been blown away by the enthusiasm and tasty options presented by each participating restaurant – and the exciting shift it's brought in local dining!
Image credit: Rhonda Johnson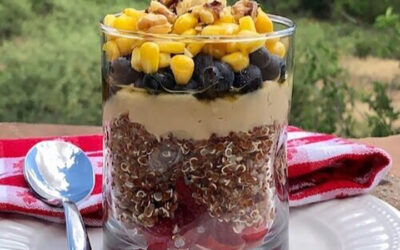 Patriotic Breakfast Parfait A refreshing parfait that you create from healthy ingredients and can enjoy for a light...
Supporting Our Work - We're currently an all-volunteer organization and we see incredible room and need to grow over the coming year. We understand that this time has enormous challenges for everyone, so while we'll be seeking support to help roll our vision forward, we're also thinking creatively to keep our costs low to efficiently build resources and deliver programming at low to no cost to our community. If you'd like to support our work, we hope you'll consider making a donation to one of our giving programs through our community partner, the Santa Barbara Foundation!