A growing network of community members is powering Rooted Santa Barbara – let's meet the team! Each month we're highlighting a new member of our Rooted community to introduce who they are, why they are passionate about plant-based nutrition, and how they're helping us to fuel our work to optimize our communities' health through the power of plants.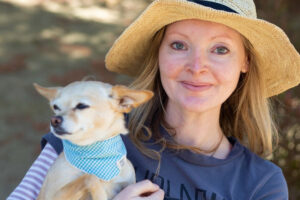 Meet Kristen! Kristen Weiss is a PhD scientist and long-time vegan with a background in ecology, natural resources, and socially-conscious conservation. She has been a science communicator with Stanford's Center for Ocean Solutions and the NSF-funded Long Term Ecological Research Network and continues to work at the intersection between science, society, wellness, environment, and ethics across a variety of media and platforms. She helps the Rooted team with content and communication, and is a Steering Committee member since May 2020.
What inspired your passion for plant-based nutrition?
I don't know why, but I've always been an environmentalist at heart. As a young child, I made sure my family didn't waste paper or use a lot of chemicals, wrote letters to the mayor about protecting our natural spaces, and at age 12 I went vegetarian. My Jewish, non-vegetarian grandmother (who was an amazing cook!) gave me a book called 'A Teen's Guide to Going Vegetarian'; she must have known that it would resonate with me. The book discussed the environmental impacts and the animal and human welfare issues associated with large-scale meat and dairy production, as well as the health benefits of a plant-based lifestyle. The day I finished the book, I stopped eating meat and never looked back! Eventually, I progressed to a healthier, completely plant-based way of eating and am grateful for the steadily growing community of plant-based people and businesses.
What are some of the most compelling aspects of plant-based eating for you?
Plant-based eating is extremely powerful because it benefits us and our environment on so many levels. Eating plants is much healthier for our bodies, and it's much more sustainable for the environment – using less water, land, and other resources than animal agriculture. In addition, one of my personal reasons for shifting to a plant-based diet is because it aligns with my values related to reducing harm to others. I've found that eliminating animal products from my diet resonates with this goal because parts of the corporate livestock industry – such as concentrated animal feeding operations (CAFOs) – focus on profits at the expense of animal health and human safety. While no diet is perfect, eating plant-based feels like one of those rare win-win-win life choices (environmental, animal, and human health wins) where you can truly make a difference on multiple scales and still eat amazingly good food!
Is this passion purely personal or also related to your profession?
Mainly personal, though I've always worked for ecology programs that are working on issues of sustainability and conservation. However, most of these programs never completely made the connection between sustainability and changing personal eating habits, which I found frustrating. Even though I'm a scientist by training, I've recently shifted toward work in non-profits centered around wellbeing, meditation philosophy, and holistic nutrition because these better align with my personal values and desire for grassroots change.
What do you wish more people knew about a plant-based diet?
That it is not restrictive! You can find a plant-based item to replace any animal-based one and it can taste just as good or better (although it may still contain a lot of fat and sugar!). I'm always humbly reminded that most folks haven't been exposed to the wonderful world of vegan brunches (croissants, pancakes, sausage and hash, 'chicken' and waffles) or that you will feel SO GOOD after a few days of eating whole plant-based foods. There are so many myths to dispel – it can be cheap, it's super easy to shop plant-based, and there are more resources than ever to help you find ingredients, recipes, or even pre-made meals if you are wary of cooking. Also – and as a scientist, I've done a lot of research on this – dogs can thrive on an appropriately designed plant-based diet! My rescue dog Buttercup is a great example of a healthy plant-based pup; she's like an animal soul sister to me. I feed her a veterinarian-created fully plant-based kibble with periodic supplements. I document our adventures together on Instagram at @buttercup.the.ocean.pup.
Where do you see the plant-based movement heading in the coming years?
A lot of huge corporate businesses are now releasing plant-based products, like plant milks, burgers, and ice creams. While it's great to see more plant-based products than ever before, I'm hoping that the plant-based movement will integrate better with the sustainability movement so that we learn to choose foods that have less of a carbon footprint – locally sourced, less processed foods with minimal packaging. Getting to choose from 20 different veggie burgers at the store is a fun novelty, but ultimately it defeats the purpose of being environmentally friendly. Eating tons of processed, packaged foods made in factories all over the world is not going to help us clean up the environmental mess we're in. Plant-based products are definitely less impactful than animal ones, but I want to see a movement toward supporting our local sustainable farmers and producers, and local shops, of making space to cook together, to grow plants together, and to simplify. Wishful thinking maybe, but it starts with an intention!
What benefits have you noticed since shifting to a plant-based diet?
I started eating a plant-based diet at such a young age that I can't say definitively how I'd feel had I not gone that route. However, it feels good to try and align my ethics and values with the foods I put in my body. I love how eating plant-based encourages me to connect with the food I eat more strongly, to be curious about how things are produced, to think about the chain of production, and how I fit into that and impact the planet for good and bad. I will say I've never had an abnormal blood panel, so I think that's a good sign!
What is your favorite recipe and why, or favorite thing to cook for others?
I absolutely love making vegan pesto pasta, either with chickpea pasta or zucchini spiral noodles! I could eat pesto every day of the week. I also really enjoy baking – and making plant-based treats is the easiest and tastiest thing ever. I love a good oatmeal, chocolate chip, walnut cookie.
What advice would you give someone looking to be more plant-forward?
Find real people to connect with! There are literally endless recipes, blogs, and guides online that are helpful, but nothing beats finding a small community, or even one other person, to join in on your plant-based journey! Don't feel discouraged – it gets easier. You'll learn to read menus and ingredient lists like a pro, you'll start googling vegan restaurants to try in every new town you visit, and your tastebuds will experience wondrous new flavors you never thought possible! You've got this.
For a full list of our Rooted team, please visit our Collaborators page!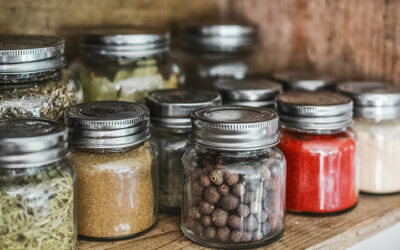 Benjamin Franklin was not wrong when he said "by failing to prepare, you are preparing to fail" though, with all due...
Supporting Our Work - We're currently an all-volunteer organization and we see incredible room and need to grow over the coming year. We understand that this time has enormous challenges for everyone, so while we'll be seeking support to help roll our vision forward, we're also thinking creatively to keep our costs low to efficiently build resources and deliver programming at low to no cost to our community. If you'd like to support our work, we hope you'll consider making a donation to one of our giving programs through our community partner, the Santa Barbara Foundation!