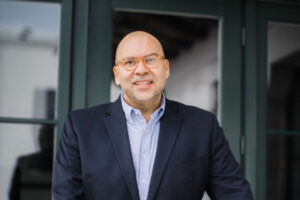 This month we are thrilled to spotlight Armando Martinez, Director of Donor Engagement at the Breast Cancer Resource Center (BCRC) of Santa Barbara. Armando and other BCRC staff have teamed up with Rooted to offer free, accessible programming to the Santa Barbara community that provides guidance on incorporating plant-forward nutrition as a powerful tool in breast cancer prevention and management.
Last year, BCRC invited Rooted members to present during their annual Pink Week event for breast cancer awareness (you can read more about the event, the history of breast cancer awareness month, and related resources here). Our partnership will continue in the coming months with an entire series of plant-forward nutrition courses, so stay tuned for more details. In honor of Breast Cancer Awareness month, we are spotlighting BCRC's tremendous contribution to the Santa Barbara community. We asked Armando a few questions about his work with BCRC and his own wellness journey.
How did you learn about Rooted and what inspired you to reach out?
I found Rooted on social media and followed the profile. I was impressed by Rooted's creative posts and communication style. About 20 years ago, I was part of an informal group that would meet for monthly "raw food" dinners. We lovingly called it the "Rawfu" group. So, the idea of an organization founded to share whole food plant-based nutrition education was awesome and I added Rooted to my file for potential community partners.
What are the key projects/activities that BCRC is collaborating on with Rooted and what do you hope the outcomes will be?
The Breast Cancer Resource Center (BCRC) of Santa Barbara is a non-medical support organization that was founded to empower women who have been diagnosed with breast cancer to advocate for themselves and make informed decisions regarding breast health. The BCRC provides  individuals with practical advice and emotional support as well as educational workshops, support groups, a suite of integrated therapies, weekly soup from the Organic Soup Kitchen, and fresh flowers. All BCRC services are provided free of charge.
I approached Rooted in 2020 to help with our first annual PINK WEEK virtual event and webinar series to raise vital funds to continue our essential free programs and services. The collaboration was such a success, BCRC has now engaged Rooted for a cancer-focused, ten part series of plant-based cooking classes.
What do you enjoy most about your work with BCRC? 
I think most professionals working in nonprofits carry a deep sense of obligation to serve and make the world just a little bit better during our time here on earth. Over the past 20 years, I've worked with a handful of nonprofits in Santa Barbara, mostly focusing on the arts. I have now been working with the BCRC since 2016, first as a consultant and then in-house since Spring 2020 as Director of Donor Engagement. It's my honor to serve in my current role. I take great pride in all we have done in a short period of time to shine a light on this tiny organization and bring awareness to the work we do in our community to serve and support our courageous clients.
How would you say nutrition has influenced your wellness journey?
The great thing about life is, once you think you've got it figured out, it changes. I have been on a quest to find the perfect balance of nutrition, healthy habits, and exercise since my mid-teens when I discovered that no one else was going to take on the responsibility. Growing up, grrrrrrrr. Sad face here.
As the youngest of a large Mexican American, Catholic family whose priority was celebrating life whenever and as much as possible, the idea of moderation was a foreign concept. I have lived at times as both a dairy-free pescatarian and plant-based. I remain curious as I continue my journey toward a life balance that works best for my body.  I love talking about Rooted and sharing the information that I have learned with family and friends.
Being plant-based during the holidays is quite the conversation starter!
What is your favorite plant-based meal or type of food (even if it is "accidentally" plant based!)?
My favorite recipe was given to me 10 years ago by one of my best friends in NYC. Oatmeal cookies have been my favorite since childhood, but my stomach could no longer handle the ingredients. The recipe is simple: overripe bananas, rolled oats, cinnamon, raisins, and walnuts. Bake until desired crispiness and that's it. I was ecstatic to have my favorite cookie back.
In his role as Director of Donor Engagement at the Breast Cancer Resource Center, Armando Martinez is responsible for creating and implementing key strategies and initiatives for donor engagement, recognition, and stewardship for individual and corporate donor groups.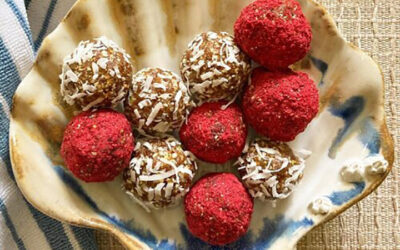 Simple Date Bites What's better than grabbing a quick snack on the way out the door or to the beach. On a hot summer...
Supporting Our Work - We're currently an all-volunteer organization and we see incredible room and need to grow over the coming year. We understand that this time has enormous challenges for everyone, so while we'll be seeking support to help roll our vision forward, we're also thinking creatively to keep our costs low to efficiently build resources and deliver programming at low to no cost to our community. If you'd like to support our work, we hope you'll consider making a donation to one of our giving programs through our community partner, the Santa Barbara Foundation!