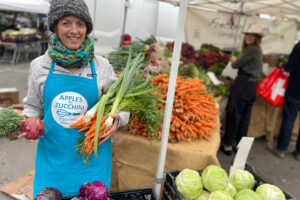 A lot of the work we do at Rooted is built around meaningful partnerships with other Santa Barbara County community organizations. One such organization that we've been lucky enough to work with is Apples to Zucchini (A to Z) Cooking School, the focus of this month's partner highlight. Founded by Nancy Martz in 2016, the mission of A to Z is to teach residents of all ages how to prepare nutritious, delicious, and affordable meals. A to Z's classes encourage participants to cook, eat, and clean together as a way to build community while teaching helpful skills.
Nancy is a Santa Barbara County native, born and raised in Santa Maria, who was influenced from a young age by her uncle and grandfather who were both professional chefs. She channeled her passion for cooking and caring for others into A to Z's programming, where food is used as a means for kids and adults alike to learn, explore, and connect. Rooted recently began partnering with A to Z on plant-based recipes and cooking classes, and we are excited for ongoing collaboration into 2022! We spoke with Nancy about the evolution of A to Z, our growing partnership, and her own relationship to food and nutrition.
Can you tell us a bit about the main programs offered at A to Z Cooking School?
When we come together at the table, that's when we make connections. A to Z is all about bringing people together. It started with after school cooking classes for kids, because kids tend to have more time than adults to try this sort of thing. Plus, if kids try something new, like kale, and tell their parents they love it, the parents are likely to go to the store and buy kale! Kids can be ambassadors for healthy foods. When the pandemic hit and all school programs shut down, we were lucky enough to secure space at Garden Street Academy where we could continue our in-person classes in an outdoor environment. We hosted 3 weeks of summer camps in 2020. When we realized that in-person school wouldn't be happening in fall 2020, we offered after-school classes at Garden Street Academy and Pilgrim Terrace. Each semester our classes were getting fuller and fuller. Then in summer 2021, we hosted 8 weeks of summer camp, nearly all of which were sold out. We can set up classes just about anywhere — we pop up our kitchen, cook with the kids outdoors, sit down to a table with tablecloth and cloth napkins, and then we all wash up together.
This year, we've seen a drop-off in after-school involvement because schools are still transitioning back to in-person programming. But this has given us the opportunity to reach out to other organizations and expand our programming to clients such as the Mental Wellness Center, Girls Inc., Noah's Anchorage, Pacific Pride Foundation, Veggie IQ, and the Santa Barbara Library. In this way we are reaching a whole new community of potential participants. A to Z has also started receiving requests from local companies who want to host cooking classes as a way to build community amongst their staff, so we have this exciting new opportunity to engage businesses in cooking and eating together as a way to build camaraderie.
Ultimately, What's really important to us at A to Z is that we cook together, we eat together, and we clean up together. It's not just about what we're eating, it's also about how we're choosing to eat. We love to build community around food.
How did you first connect with Rooted and what projects are you collaborating on?
As it turns out, my kids went to the same school as Rooted Chair Beth Skidmore's. Santa Barbara has such a small-town feel, it seems everyone knows everyone. A mutual connection thought we should meet and introduced the two of us, and that was that!
One of the first projects we worked on together was our plant-based recipes that are available on the A to Z website. For each recipe, the Rooted team provides a 'Nutritional Nugget' that describes the benefits of some of the key ingredients, like beans, walnuts, or carrots. Each recipe is available as a downloadable PDF and co-branded with both of our organization's logos. We also invited Rooted Vice Chair Emma Malina to teach a lesson at our teen summer camp. She presented the 'eat the rainbow' concept for creating a well-balanced diet focused on plants, and made a plant-based nacho cheese that the teenagers absolutely loved! We are beginning to pilot additional adult cooking classes in the coming months, including plant-based classes. As we get a sense for what the local community is most interested in learning, we will look forward to working with Rooted more closely to co-develop some of these classes together.
What have you found most exciting and inspiring in your work?
I think it's exciting to be part of a growing local movement focused on plant-forward nutrition and using food to bring the community together. A to Z isn't alone in this, Rooted isn't alone in doing this. There are many organizations in town talking about these concepts and building great partnerships. Plant-based nutrition is becoming mainstream. We have a table at the Santa Barbara farmers market where we've been advertising our holiday plant-based side dishes class, and people are excited about it! Eating vegan is more accepted and normal than ever, but people still need help to figure out how to do it. It's great to be able to play a role in that.
Over time A to Z has made shifts in its nutrition focus as well. We aren't strictly plant-based but we are significantly more plant-forward than when we started in 2015. The students in our classes are also generally very accepting of this shift. A number of them are vegetarian or vegan themselves, and others are completely comfortable cooking without meat or dairy. Sometimes they don't even notice when one of our classes is plant-based by default! One recipe we teach students is a rainbow rice bowl with lots of flavorful plant ingredients – it's a class favorite and the participants are often surprised how much they enjoy plant-based eating. It creates opportunities for good conversations about food, nutrition, and related issues.
How has your own wellness journey influenced your approach to food?
I stopped eating gluten and dairy five years ago as a way to try and reduce my migraines. As it turns out, it didn't help much with the headaches but it eliminated the stomach aches I was suffering from. I realized that I was definitely sensitive to gluten and dairy. It was exciting to make a direct connection between what I put in my body and how my body reacted. Often when you tell people what meat or dairy will do to their body, there isn't full acceptance of that information because it is sort of abstract. But what you eat really makes a difference!
Having gone on my own food journey makes it much easier for me to find the words to explain that you need to figure out what works for you nutritionally. At A to Z, we don't talk about food that's 'good' for you or 'bad' for you – we instead recommend that you pay attention to how different foods make you feel, and adjust what you eat accordingly. Paying attention is a huge step in figuring out how to eat to feel better.
Do you have a favorite plant-based recipe or meal?
One of my personal favorites is a recipe from California Walnuts, one of our supporters. They have a lot of great recipes on their site, and one that goes over well both with my family and in A to Z classes is the plant-based walnut chorizo. The combination of walnuts, beans, red peppers, and spices, including smoked paprika, gives the chorizo a delicious flavor with great texture that you can put in tacos, breakfast scrambles, lettuce cups, or any number of dishes. I also love anything with avocado!
Check out A to Z's What Are You Hungry For? Podcast where Rooted's Chair Beth Skidmore joined Nancy for a conversation on all things plant-based!
Nancy Martz is the Executive Director of Apples to Zucchini Cooking School, whose mission is to teach children and their families how to prepare delicious, nutritious, affordable meals made from real food. Join Apples to Zucchini Cooking School for live, in-person, outdoor classes! Visit www.atozcookingschool.org for more information and registration.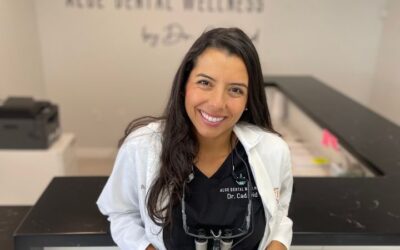 By Daniela Cadavid, DDS My name is Dr.  Daniela Cadavid DDS, and I'm a general dentist at Aloe Dental Wellness, a...
Supporting Our Work - We're currently an all-volunteer organization and we see incredible room and need to grow over the coming year. We understand that this time has enormous challenges for everyone, so while we'll be seeking support to help roll our vision forward, we're also thinking creatively to keep our costs low to efficiently build resources and deliver programming at low to no cost to our community. If you'd like to support our work, we hope you'll consider making a donation to one of our giving programs through our community partner, the Santa Barbara Foundation!