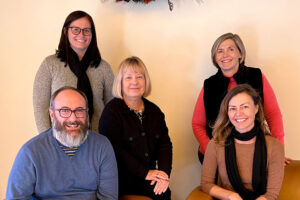 Some partnerships are meant to be.
While developing Rooted SBC's messaging and branding elements, our Chair Beth Skidmore and Vice Chair Emma Malina attended a plant-based conference where they met a team of passionate creatives from a marketing firm called Enrich. Hailing from St. Louis, a recent hub of activity in the plant-based movement, the Enrich team shared our vision of a healthy plant-powered future.
While Enrich is almost 2,000 miles away, they had the experience and passion to create bold, welcoming branding elements – and a deep understanding of plant-based nutrition. Founder Gretchen Schisla and Creative Director Casey Dierkes made remote collaboration with Enrich seamless, and they spent significant time with us learning about our community's needs. This better helped us create vibrant and engaging educational materials to help us better connect with our neighbors across the County.
We interviewed Enrich's core team about their creative process, what they've helped Rooted with so far, and why they are passionate about the plant-based movement hear from them below:
How did Enrich learn about and connect with Rooted? 
We met Beth and Emma in 2019 at the International Plant-Based Nutrition Healthcare Conference (PBNHC). They were working hard to develop their non-profit initiative. We were so impressed with the work they had done! Their enthusiasm was contagious, so we talked as a group at Enrich and decided we wanted to support them by creating a beautiful brand image.
How are our missions aligned?
Our mission and goals are exactly the same – we want healthier communities! Enrich exists to help individuals and organizations connect with their audience and drive their mission forward and we're particularly passionate about plant-based nutrition and lifestyle medicine. In fact, that's what we focus our business on. People are eager to learn about the power of a plant-based lifestyle, and since our business is communication, we believe we can really help groups like Rooted share this message.
What have been the main ways you've worked with Rooted so far?
Enrich created the branding for Rooted, which includes the logo and tagline. Messaging that speaks to your audience clearly in a way they will understand is critical. Beth and Emma excel at articulating their mission, and we've worked with them to make sure it's as powerful as possible. More recently, we created visually-driven educational materials designed for people of all literacy levels, and we believe these will be helpful tools.
How did you come up with your design ideas?
Logos can be challenging to design because they must communicate the essence of the organization in a simple, impactful way. They must also be unique and stand apart from all the visual noise that's out there. We wanted the Rooted logo to be friendly, welcoming, and make people smile when they see it.
The logo symbolizes what Rooted is all about – food, health, and community. The shapes represent not only food but also elements of lifestyle. For example, in the green lettuce shape you can see a person with outstretched arms in celebration. We also liked that the fruit and veg elements in the logo aren't solid, but are instead made up of different pieces or layers. This represents the idea of different groups coming together as one.
Our designer, Casey, was really inspired by Beth and Emma's energy. Over the course of several weeks, we shared several logos with Rooted and they all had the same vibe – vibrant, energetic, and fun. Casey's not sure if they knew this but she was "rooting" for the logo they chose all along!
We enjoyed writing a case study about the Rooted Santa Barbara project on our website: https://www.enrichcreative.com/rooted-santa-barbara
What have you enjoyed most so far about working with Rooted and similar orgs? 
Well, how much time do you have? I think it's because we all share and deeply understand the need for people to get healthy, but often they don't realize the solution is on their forks. The saying, "you don't know what you don't know" perfectly describes the lack of knowledge most people have about how good nutrition can heal and change your health trajectory.
It wasn't long ago that we didn't know this information ourselves, but through orgs like  The Plantrician Project and the American College of Lifestyle Medicine (ACLM) we've learned compelling evidence-based science from luminaries who have dedicated their medical careers to advancing food as medicine. We feel fortunate to work alongside any individual and organization who is striving to make others aware.
What inspired your focus on helping organizations with plant-based messages? 
Our personal "Aha" moment came in 2010, when we realized each of our teammates had family members dealing with chronic illness and lifestyle diseases – such as diabetes and heart disease. One member lost her mom to pancreatic cancer. We knew there had to be a better way to manage these conditions or even prevent them in the first place. That's when we discovered plant-based nutrition. Our firm made the decision to use our expertise and resources to serve clients in this niche, and we've never looked back. In 2022, we'll celebrate 20 years in business and will keep helping organizations like Rooted, to make sure they have the tools they need to succeed.
How do your various areas of focus – education, health, plant-based, food, community – intersect?
There is so much overlap in these areas, it's exciting to see how quickly the plant-based movement has taken off in all markets. For example, we know that consumer demand drives change, so our food ingredient clients are actively researching plant-based alternatives to create a brighter future – one with cleaner ingredients and a more sustainable global food industry. We also work with a physician who is devoted to educating medical students about plant-based nutrition, and many others who have changed their medical practices to include a focus on food and lifestyle medicine. There are all types of businesses that are stepping into the health and wellness landscape, so the momentum is great.
On a personal level, we're also noticing that the pandemic has inspired individuals to want to live better, healthier lives, so we see the positive shifts this type of awareness can bring.
How would you say nutrition has influenced your own wellness journeys?
Gretchen: Adopting a whole food, plant-based focus changed my and my husband's life. When we began 8 years ago, we were surprised at how dramatic the changes were: lowering cholesterol, increased energy, reducing weight, better sleep, a stronger immune system, and loss of arthritic pain. We take no medications, and the benefits are endless.
Casey: As an athlete growing up and through college, nutrition always played an important role in my life. However, over the years (and especially after starting at Enrich almost 5 years ago), I've transitioned from the "more protein" mindset to one that values plants and whole foods. There's a lot of truth in the science behind plant-based, and the more I've learned, the more it affects the food choices I make.
Suzanne: Having sick family members with no genetic history of disease made me start to question whether it was the food we were putting into our bodies. When I learned about plant-based nutrition, all the pieces of the puzzle fell into place. Since then, I've been inspired to shift my diet and my family's. I'm more careful about the foods we eat, knowing that they impact our health and I enjoy introducing my 2-year-old daughter to the plant-based foods that she takes to school.
Bruce: Our biggest transition as a family has been to reduce the amount of processed foods that we consume. We eat a big salad with every dinner and have really increased the amount of fresh fruit and vegetables in every meal.
Amanda: I was lucky enough to grow up in a very healthy household. As a child, this wasn't always fun, but I am so thankful to my parents now for educating me on nutrition. I feel like that strong foundation is the basis for my good health now. I care a lot about nutrition, and ask anyone who knows me, I will likely discuss what's in your lunchbox.
What is your favorite plant-based meal or type of food? 
Gretchen: There are so many resources and delicious recipes available. My husband and I love to cook and try new things, but the most energizing and healthy thing I do daily is an 'Alkagizer' smoothie made with water, celery, cucumber, avocado and spinach. It's so simple and full of good nutrition.
Casey: One of my favorite meals to make at home also comes from my easy/family-friendly collection. We love roasting a bunch of vegetables (whether it be cauliflower or broccoli, carrots, peppers, mushrooms, Brussels sprouts, etc.) and pairing those with a serving of brown rice. My family really enjoys it and I always make sure to make enough for lunches throughout the week. Yum!
Suzanne: As someone who loves to cook, it's hard to pick just one favorite. I love converting dishes I grew up eating to plant-based, I've got a pretty mean Mushroom Stroganoff recipe. But hands down, I'm a baker and love trying new things. Black bean brownies or avocado pudding are always requested at my house.
Bruce: We have a lot of favorites that we make where we don't miss the meat that we used to prepare it with — pasta primavera with eggplant or zucchini, bean and corn burritos, and veggie chili. We also love tofu.
Amanda: I like to take some of the simple meals and snacks I had as a child, and kick them up a bit. I love to make creamed vegan soups with surprising ingredients like fennel or mint. I also love gluten free veggie loafs packed with unsuspecting ingredients like zucchini, tahini, or beetroot.

The Enrich Team:
Our team is passionate about health and simply wants to help everyone understand the power of a plant-based lifestyle and expand the movement.
The Rooted team is forever grateful for all the time and thoughtfulness everyone at Enrich has put into our work together. From all of us to Greatchen, Casey, Suzanne Bruce and Amanda – Thank you from the bottom of our plant-powered hearts!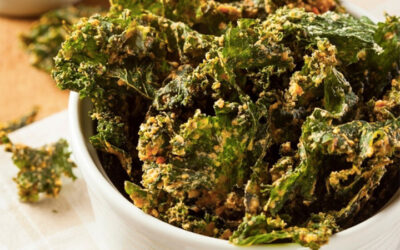 Easy-Cheesy Kale Chips Kale is an amazing leafy green containing a variety of nutrients, and what better way to enjoy...
Supporting Our Work - We're currently an all-volunteer organization and we see incredible room and need to grow over the coming year. We understand that this time has enormous challenges for everyone, so while we'll be seeking support to help roll our vision forward, we're also thinking creatively to keep our costs low to efficiently build resources and deliver programming at low to no cost to our community. If you'd like to support our work, we hope you'll consider making a donation to one of our giving programs through our community partner, the Santa Barbara Foundation!