Rooted Santa Barbara is a community-centered, plant-based lifestyle initiative founded by local health and nutrition professionals. We believe optimal health is rooted in prevention. Rooted empowers Santa Barbara County residents to take a leading role in their health through low-to-no cost, plant-forward nutrition and food skills education, and collaborative healthcare initiatives. We believe that the healthier we are as individuals, the stronger we are as a community!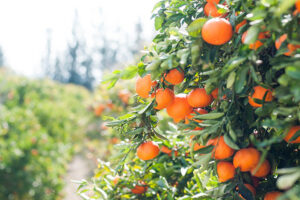 Eating a predominantly plant-based diet is an opportunity for our personal health and well-being – and it's also beneficial for our planet! A plant-forward diet, where fruits, vegetables, whole grains, nuts, seeds, and legumes take center stage, can reduce our carbon footprint and help minimize the impacts of agricultural land use.
In honor of Earth Day, we'll highlight some of the ways that eating more plants can help the environment, and share some resources to help you get more plants into your cooking.
Our Carbon Footprint
Perhaps the most significant way that eating more plants helps our planet is by reducing human-produced greenhouse gases, or lessening the 'carbon footprint' of our diet. According to researchers from Oxford University, eating a plant-based diet is the "single biggest measure" a person can take to reduce environmental pollution – it can reduce their carbon footprint by up to 73%. That means switching to a plant-based diet has a bigger impact than cutting down on air travel or buying an electric car! Additional studies show that what we eat is more important than how it's produced, how far it travels, or how it's packaged.
Whether you compare the footprint of foods in terms of their protein content, calories, or weight gram-to-gram, the overall conclusion is the same: protein-rich, whole, plant-based foods have a lower carbon footprint than fish, meat, and dairy. For example, producing 100g (grams) of beef creates 25kg (kilograms) of carbon dioxide, whereas 100g of tofu creates only 1.6 kg.
Overall, plant-based foods tend to have a much lower carbon footprint than animal-based foods, with beef and dairy at the high extreme. This is because the inputs required to raise animals, including land area, feed production, water and transport, require massive amounts of energy and resources.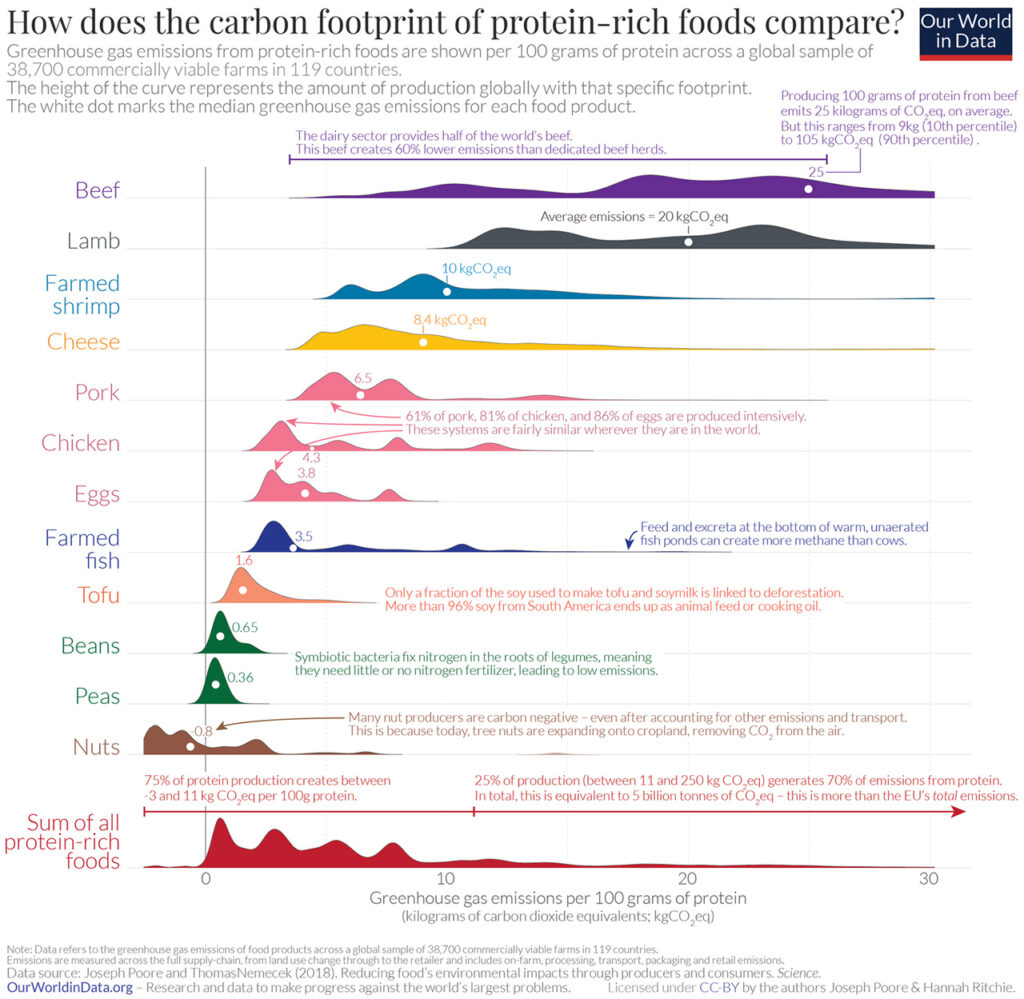 Some of the most protein-rich plant-based foods – tofu, beans, peas and nuts – have the lowest carbon footprints. Putting more plants on the dinner table can have a real impact.
Land Use and Wildlife
Another benefit of prioritizing plant-based agriculture is that it requires much less land area than animal agriculture. Currently, one-third of the planet's habitable land (almost 25 million miles) is occupied by animals used for agriculture or their feed.
Scientists estimate that if all people worldwide were to stop eating meat products, the total area of land used for global agriculture could be reduced by around 75% – equivalent to the area of the USA, China, Australia and the EU combined. We don't expect the entire world to give up meat (particularly in regions where meat may be the only viable food source), but this data indicates that any significant shift away from large-scale commercial animal agriculture will benefit the environment.
What's more, loss of natural habitat and the related extinction of wildlife is largely caused by agricultural production. Much of this is animal-based, or revolves around the production of wheat, corn, and soy used only as animal feed. By moving away from commercial animal agriculture, we could convert thousands of acres of pastureland and feed crops back to natural habitats and have room to spare for nutritional food crops.
When we protect the Earth's wildlife and their habitats, we protect our own health and habitat – and the long-term viability of resources like clean water and fertile soil.
Plants for the Planet!
This Earth Day, the Rooted team hopes you'll join us in reflecting on the amazing and intricate ways we are connected to the world around us, and consider how our way of eating can impact our surroundings. Simply choosing a black bean burger instead of a beef burger goes a long way toward reducing the strain on our environment, both body and planet.
Rooted is here to help you get started with healthy plant-centered eating that is a win for health and the planet! We're growing our resources to make eating more plants easy, fun, and as accessible as possible for our neighbors throughout our county. Check out our Resources page to  help you get started, or join us on Facebook or Instagram for daily tips and recipe ideas.
Don't forget to sign up for our email list – you'll receive our free Eat the Rainbow Plants Tracker!
Eat more plants for the planet, because every day is Earth Day!
Kristen Weiss is a PhD scientist and long time vegan with a background in ecology, natural resources, and socially-conscious conservation. She has been a science communicator with Stanford's Center for Ocean Solutions and the NSF-funded Long Term Ecological Research Network, and continues to work at the intersection between science, society, wellness, environment, and ethics across a variety of media and platforms.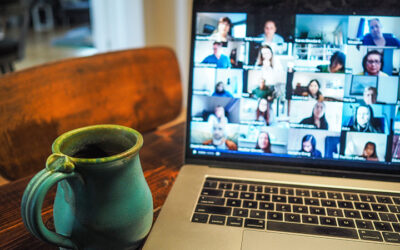 There are a growing number of resources for physicians and healthcare professionals to learn more about the science of...
Supporting Our Work - We're currently an all-volunteer organization and we see incredible room and need to grow over the coming year. We understand that this time has enormous challenges for everyone, so while we'll be seeking support to help roll our vision forward, we're also thinking creatively to keep our costs low to efficiently build resources and deliver programming at low to no cost to our community. If you'd like to support our work, we hope you'll consider making a donation to one of our giving programs through our community partner, the Santa Barbara Foundation!