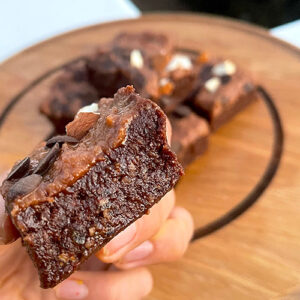 No-Bake Fudge Brownies for Passover
Local Plant-Based Chef and Food Entrepreneur Amit Solway is sharing this delicious no-bake brownie dessert with the Rooted community in honor of Passover! She chose this dessert because on Passover it's not as much what you do eat, rather what you don't eat. One of the main foods that is not kosher for Passover are grains - which can make whipping up a yummy dessert a tough task. Here's is Amit's quick and easy recipe for a decadent, grain-free Passover-friendly dessert!
Ingredients
Brownies
1

cup

Almonds raw

1

cup

pecans

raw

1/2

cup

nuts of your choice, hazelnut, pecans, walnuts etc.

reserve, to top off brownie

2 1/2

cups

dates

pitted – soak in warm water to soften.

3/4

cups

cocoa powder

unsweetened

pinch

cinnamon

Pinch

sea salt
Frosting
1/4

cup

almond butter

1/4

cup

either date syrup

raw honey or maple syrup

1/2

cup

cocoa powder

unsweetened

1/4

cup

melted cacao butter or coconut butter

1

tsp

vanilla extract

or one bean scraped

1/4

tsp

sea salt

optional
Instructions
Prepare the brownie mixture: using a food processor, place almonds, pecans, cocoa powder, and sea salt (if using) and pulse until fine mince (flour-like texture)

Slowly drop in the pitted dates while continuing to pulse until all dates are incorporated into the batter. If dates are wet from sail it's okay. The mixture will be quite thick and balled up. (Cookie-dough texture)

Line a small brownie pan (9 in x 9 in) with parchment paper. Scoop out the brownie mixture and press into the pan, spreading evenly. Place aside.

For the frosting: using a food processor, add all ingredients to a food processor and blend until smooth.

Spread frosting over the brownies covering entirely (use a spatula or spoon).

Sprinkle the remaining chopped nuts over the top of the brownies.

Wrap and place in freezer for a minimum of 2 hours to firm up quickly.

Remove from freezer, slice and serve. Alternatively, these could be stored in the refrigerator.
Notes
• Pairs nicely with fruit like strawberry or raspberry garnish!
---
Amit Solway is the founder of Naturally On A High, planted in Santa Barbara, seeded with a vision to help reverse and prevent illness through nutritious plant- based foods. Amit always intended to pursue a career in medicine and found her greatest passion and work wearing a chef's coat over a white coat - she is spreading her roots of knowledge in hopes for us to view food with a fresh yet intrinsic perspective where food IS medicine.