A growing network of community members is powering Rooted Santa Barbara – let's meet the team! Each month we're highlighting a new member of our Rooted community to introduce who they are, why they are passionate about plant-based nutrition, and how they're helping us to fuel our work to optimize our communities' health through the power of plants.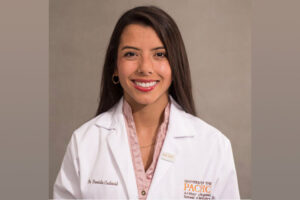 Meet Daniela Cadavid, D.D.S.! Daniela is a Steering Committee member and IDEA Co-Chair for Rooted Santa Barbara. Daniela joined Rooted's leadership team in the Summer of 2020 to further her passion for educating her patients and the local Latinx community on the importance of a plant-based lifestyle. Before moving to the United States, Daniela completed her dental training and worked as a dentist in her home country of Colombia. She has co-authored scientific research articles published in top peer-reviewed dental journals and is an active member of the Santa Barbara Women in Dentistry Group. She completed her U.S. dental training with honors at University of the Pacific, Arthur A. Dugoni School of Dentistry in San Francisco in 2016, where she graduated with honors.
Daniela and her husband, John Feusier, a local orthodontist, live in Goleta, where they enjoy an active and healthy lifestyle that includes exercise, spending time in nature, and a whole food plant-based diet.
What inspired your passion for plant-based nutrition?
It all started in 2016, when  a family member got really sick, even though he was seen as the "healthiest person ever." My husband and I started researching the benefits of plant-based nutrition, and once we found out all of the amazing benefits for our health, we became passionate about it and there was no turning back.
What are some of the most compelling aspects of plant-based eating for you?
Well, first of all, I love the amount of different plant-based foods, veggies and fruit that I have discovered since becoming plant-based. The fact that I can explore new recipes and experience new flavors and foods, it's just fascinating to me! Also, I love to travel and traveling gets so much better exploring the different plant-based cuisines all over the country and world. As a dentist, I see whole food plant-based eating as an opportunity to improve not only your oral health but your overall health. Nutrition starts in your mouth when you chew your food and it mixes with your saliva. The more whole plant-based foods we eat, the better nutrition we can accomplish.
What benefits have you noticed since shifting to a plant-based diet?
I feel like I have so much more energy than before – I don't feel lethargic. All my GI issues are pretty much non-existent. I have a healthier relationship with food and diet overall. We even decided to start our own home garden – it's nothing fancy or complicated – but it started as an experiment with all these different veggies, and now it's given us the opportunity to eat more seasonal and fresh food!
What was one of the challenges of making the shift, and how did you overcome it?
The biggest challenge at the time was finding reliable information of what a plant-based diet was and how to incorporate it into my new lifestyle. Also, another challenge was my family thinking that a whole food plant-based diet wasn't good enough or nutritious. To overcome the first, I surrounded myself with people that were in the same process and also learning. I then focused on learning as much as possible to be able to explain and educate my family about plant-based eating with confidence.
What is your favorite recipe and why, or favorite thing to cook for others?
My favorite thing to cook for others is tofu. It is so versatile – I can make eggs, stir fry, cheese, cakes, quiche, and many other things from this one ingredient. And it takes on the flavor of whatever you marinate it with!
For a full list of our Rooted team, please visit our Collaborators page!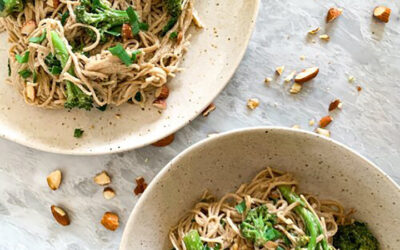 Creamy Sesame Soba Noodles with Garlic Broccoli What's more comforting than a big bowl of noodles? Santa Barbara...
Supporting Our Work - We're currently an all-volunteer organization and we see incredible room and need to grow over the coming year. We understand that this time has enormous challenges for everyone, so while we'll be seeking support to help roll our vision forward, we're also thinking creatively to keep our costs low to efficiently build resources and deliver programming at low to no cost to our community. If you'd like to support our work, we hope you'll consider making a donation to one of our giving programs through our community partner, the Santa Barbara Foundation!