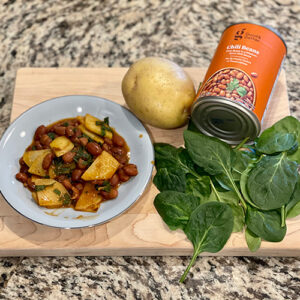 Sam's "Seasoned" Beans and Greens
Last month, I shared my favorite simple recipe - my family calls it Sam's Beans and Greens. It's as simple as heating up one can of beans and a few handfuls of chopped greens with a little veggie broth.
I was in a rush to get lunch on the table between Zooms this week, and I had a can of Chili Beans with sauce in the back of my cabinet - so I updated my recipe and added my favorite ingredient: potatoes!
You can certainly use dried beans and any seasonings or sauces you desire, but when you're in a hurry this is the way to go! Canned seasoned beans also tend to be pretty inexpensive, with a can costing around $0.50 at Target or Ralph's. I usually use whatever greens are in my fridge, and if I'm out of fresh I use frozen spinach.
This is a great dish to batch cook - it's easy to reheat and stores in the fridge for about 5 days, making it handy for quick lunches or dinners. Put it in a tortilla, sandwich or wrap, serve over brown rice and quinoa, or eat it as-is as a snack or a side.
Ingredients
Beans

A 15oz can of beans OR a heaping ⅓ cup of dried beans. I especially like Chili Beans (pintos with sauce) for this one, but keep in mind that canned seasoned beans may be higher in sodium. You can look for low sodium options, or start from dry or plain canned beans and add your own sauce.

Chopped Greens

Fresh or frozen will work here. I like to use spinach because the leaves are tender and require less cooking but I've also used kale. If you have fresh greens that are too wilted for a salad, this is the perfect way to make sure they don't go to waste! You'll want at least a cup of fresh as the leaves will shrink, at least ½ cup frozen. If you love your greens, go ahead and add more!

One Large Gold Potato

You can either slice or cube, just no mashed potatoes.
Instructions
Prepare beans for cooking - since we're using flavored beans, we won't rinse! Just open the can and empty into a medium saucepan.

Slice potatoes into one inch slices. Sauté on medium until pliable, stirring regularly, meanwhile

Prepare greens - chop fresh greens and put on top of beans in pot, once the beans start to simmer, mix periodically until hot. I like to get it to a simmer and stir every minute or two.

Once everything is simmering, turn of the heat and let stand for 5 minutes before serving.
Notes
This recipe will work with any seasoned beans!
You can add more veggies if you have the time - sautéed onions, roasted red peppers, and crushed or diced tomatoes are our favorites.
For dried beans, check the instructions on the bag to ensure proper soaking and rinsing for the type of bean you're using.
---
Samantha Haentjens is a long-time plant enthusiast who worked with Rooted Santa Barbara as a Steering Committee member and
marketing consultant
.