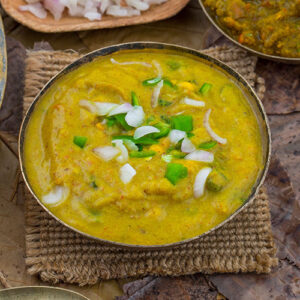 Delicious Golden Dal
Lentils are one of the most satisfying ingredients we can think of for any dish – and this Golden Dal developed by local Nutritionist Christina Wood starts with a whole cup full! On a chilly evening it can be especially nice and warming over your favorite grain. Red lentils bring protein, fiber, potassium, folate, and iron to the table – so many good things packed into such a small package!
Ingredients
1

cup

red lentils

3/4

cup

copped yellow sweet onion

1/2

cup

diced

peeled sweet potato

1/2

cup

frozen peas

1/2

cup

carrot

sliced 1/4 inch thick

1

cup

chopped

fresh spinach (optional)

1/4

tsp

cumin

1/2

tsp

cinnamon

1/2

tsp

ginger

1/2

tsp

salt

1/2

tsp

curry powder
Instructions
Place the lentils, onion, and sweet potato in a medium-size pot with 2 1/2 cups of water and salt. Bring to a boil.

Reduce heat and simmer uncovered for 20 minutes, stirring often.

Add the peas, carrots, and spinach, stir and simmer 10 more minutes.

Mix in the spices.

Simmer until the extra liquid is gone and the lentils are blended to a creamy texture.

Puree according to dentition.
Notes
Christina (Schmidt) Wood, MS is a nutritionist and certified nutrition educator who has been featured on NBC's Today show and has been published in numerous nutrition magazines. She is the author of The Baby Bistro and The Toddler Bistro books. She lives in Santa Barbara, CA.