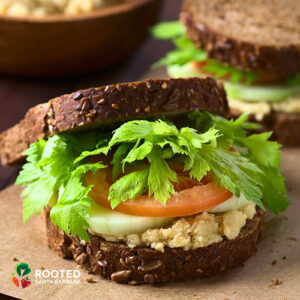 Chickpea "Tuna" Sandwich
Chickpeas, or garbanzo beans, are amazing little powerhouses full of nutrition and fiber. Roasted into crunchy snacks, blended into a smooth hummus, baked into falafel, stewed in a sauce, or mixed into salad - chickpeas can do just about anything! With just 7 ingredients, a can of chickpeas can even taste like tuna! You can make this recipe ahead of time and store in your fridge, then scoop it into a sandwich, bowl, or salad when you're ready. This recipe is amazing, easy, delicious and perfect for a quick lunch or light dinner.
Ingredients
1

can of chickpeas drained

1

cup

of sunflower seeds

1/2

cup

of yogurt unsweetened or hummus

2

tbsp

of dill relish

1/2

lemon

Salt and pepper to taste

Hot sauce to taste
Instructions
Place the drained chickpeas and the sunflower seeds in the food processor pulse for a couple of seconds until crumbly - don't over mix it, you want some chunks in there.

Put the mixture in a large bowl add the yogurt or hummus mix until preferred consistency. Add the relish lemon and hot sauce.

Place on top of a piece of toast or on top of a salad and enjoy!
Notes
---
Daniela Cadavid, DDS is a general dentist in Santa Barbara, CA who believes strongly that ideal dental health is directly linked to a healthy lifestyle, which starts with proper nutrition. She, along with her family, enjoys the benefits of living plant-based. Daniela is fluent in both English and Spanish,, and is more than happy to spread her passion for plant-based nutrition with the Santa Barbara community.