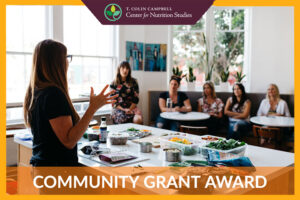 Rooted Santa Barbara County has received a grant of $5,000 to support the development of a bilingual plant-based jumpstart program in partnership with the Foodbank of Santa Barbara County!
The T. Colin Campbell Center for Nutrition Studies (CNS), a renowned global leader in whole food, plant-based resources, education, and advocacy, provides grant support to empower sustainable food-based initiatives around the world.
"We are incredibly excited to offer these Community Grants as a natural extension of our global mission," commented LeAnne Campbell, President of CNS. "This grant program will provide organizations with support to advocate for a more sustainable and equitable food system, whether they are nonprofits, educators, community organizers, or environmentally conscious companies."
Rooted is the first and only local, community-based initiative focused on optimizing community health through whole food, plant-based nutrition education and support. Rooted is empowering Santa Barbara County residents with the knowledge, confidence, and resources to prioritize, prepare and enjoy whole, plant-based foods to build health equity and resilience, reduce medical expenses and medications, and grow quality of life. As a collaborative hub, partner and resource for healthcare practitioners and direct service organizations, Rooted does this through:
Low-to-no-cost, bilingual, plant-forward nutrition and food skills education programs, tools, resources, and support, and
Community collaborations that ensure inclusivity and accessibility, healthy food access, healthcare community engagement, and culturally relevant support to improve health outcomes countywide.
Rooted is on a mission to reduce the burden of chronic disease, optimize health, and help our county residents eat to thrive.
Rooted's Board Chair, Beth Skidmore, MSACN, said, "We are incredibly grateful to receive this generous funding from the Center for Nutrition Studies' Community Grant, which will allow us to help our county residents learn the basics of plant-based nutrition and food literacy and have fun and accessible tools to get started. We're grateful to be developing this program in partnership with our friends at the Foodbank of Santa Barbara County to ensure this bilingual resource is accessible, relevant, and a supportive step-by-step guide to eating more plants for community members county-wide."
About CNS
The T. Colin Campbell Center for Nutrition Studies (CNS) is a 501(c)3 nonprofit organization committed to increasing awareness of the extraordinary impact that food has on the health of our bodies, our communities, and our planet. Through science-based education, service, and advocacy, we seek to inspire and connect all people, providing practical solutions to enable a healthier life, more equitable communities, and a sustainable world. We offer grants to empower individuals and organizations focused on increasing food literacy, improving access to healthy and affordable food, and building sustainable and equitable food systems. Our library of content and tools includes an online certificate in Plant-Based Nutrition, as well as articles, recipes, newsletters, and other free educational resources. Learn more at nutritionstudies.org.
About Rooted Santa Barbara County
Rooted Santa Barbara County is a local, community-centered initiative dedicated to whole food, plant-based nutrition as a preventive health opportunity. We aspire to shift healthcare from a treatment-based approach to one that leads with prevention. We provide low-to-no-cost nutrition and food skills education, tools, and a network of support for individuals, healthcare providers, and direct service organizations to optimize health and lower rates of chronic disease countywide with a plant-forward lifestyle. You can follow Rooted on social media on Instagram, Facebook, and LinkedIn, and stay connected by signing up for our email list.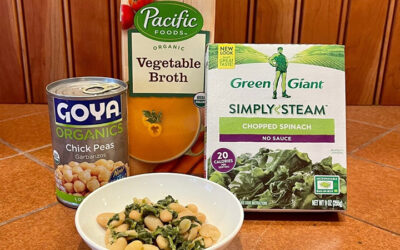 Sam's Beans and Greens I'm always looking for new ways to sneak a few extra healthy ingredients into my cooking. You...
Supporting Our Work - We're currently an all-volunteer organization and we see incredible room and need to grow over the coming year. We understand that this time has enormous challenges for everyone, so while we'll be seeking support to help roll our vision forward, we're also thinking creatively to keep our costs low to efficiently build resources and deliver programming at low to no cost to our community. If you'd like to support our work, we hope you'll consider making a donation to one of our giving programs through our community partner, the Santa Barbara Foundation!