Protein is a hot topic. It's likely the number one nutrient on most people's mind when they think about food. So, when the FoodBank of Santa Barbara County asked us to present a topic for their Food as Medicine series, we were so excited to bring protein to the conversation!
Thanks to the FoodBank, this talk is available to everyone in our community on YouTube – so we're sharing it with you today! You'll hear from your Santa Barbara neighbors:
Dr. Daniela Cadavid, Doctor of General Dentistry
Emma Malina, Plant-Based Nutrition Educator and Food Skills Instructor
Dr. Beth Prinz, Internal Medicine, Lead Clinician at Santa Barbara Neighborhood Clinics
"One of the main reasons that Rooted has partnered with The FoodBank is because of their deep mission of shifting from hunger to health. Unlike traditional food banks, the FoodBank of Santa Barbara County truly understands the difference between eating enough calories and choosing healthy foods. Longterm, sustainable health for critical communities is not simply about providing food, but also about educating and supporting the community; from donors to recipients and everyone in between." – Emma Malina
Nutrition Misconceptions
There is a lot of misunderstanding around our body's need for protein, especially when it comes to living a more plant-forward lifestyle.
"I think it's a common misconception that when we eat a certain type of protein, our body will make more of the same. This may be the reason some people associate eating meat with growing muscles." -Dr. Beth Prinz
The truth is:
97% of Americans are consuming too much protein.
Protein comes from plants first, humans and animals convert plant proteins into whichever protein is needed in the body at the time of consumption.
People eating all plant-based whole foods are getting plenty of protein, and also plenty of fiber, something lacking for 95% eating the Standard American diet.
More is not better – too much animal-based protein, particularly over extended periods of time, is shown to dramatically increase the risk of chronic disease and is extremely taxing on nearly every system of the body.
Watch the video here to learn why too much animal-based protein can be harmful to our health and how protein metabolism really works.
Still Have Questions About Protein or Fiber?
First, check out Part 3 of our nutrition series, where we discuss the macronutrients protein, fat, and carbohydrates.
If you still have a question, please send us a message. Our Plant-Based Pros love to help!
The FoodBank and Rooted agree that every individual has the right to education, support, fresh fruit, and vegetables – and that we're a stronger community when we make health a priority for all! If you or someone you know is food insecure, visit the Foodbank of Santa Barbara or call (805) 967-5741 to find distribution nearby.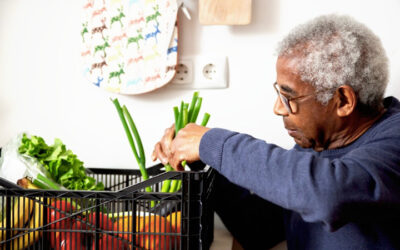 You could live up to a decade longer by eating plant-based, according to a new study from the University of Bergen in...
Supporting Our Work - We're currently an all-volunteer organization and we see incredible room and need to grow over the coming year. We understand that this time has enormous challenges for everyone, so while we'll be seeking support to help roll our vision forward, we're also thinking creatively to keep our costs low to efficiently build resources and deliver programming at low to no cost to our community. If you'd like to support our work, we hope you'll consider making a donation to one of our giving programs through our community partner, the Santa Barbara Foundation!