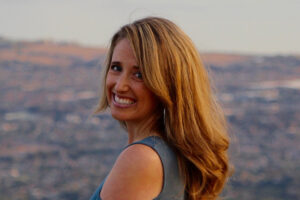 Katie Kinsella is the Project Coordinator for Veggie IQ, a new initiative at Sansum Diabetes Research Institute. She has a passion for food science, health, and social justice that she channels into Veggie IQ's youth-focused programs. She engages local teens in projects that incorporate nutrition, technology, science, and marketing to help them encourage their peers and families to think about food as medicine. The Rooted team is excited to partner with Katie on Veggie IQ projects that inspire the next generation of potential plant-forward foodies! For this month's partner spotlight, we spoke with Katie about what inspired Veggie IQ and what she hopes to accomplish with her work.
How did your partnership with Rooted develop? 
I first learned about the work Rooted is doing in the community through my colleague at Sansum Diabetes Research Institute, Dr. David Kerr. From the first meeting I had with Beth and Emma (Rooted's Board Chair and Vice Chair, respectively), I knew we could create a powerful partnership between Sansum Diabetes, Veggie IQ, and Rooted because we share similar missions: educating community members about the idea of food as medicine, and how food impacts our health – both physical and mental.
What are the key projects that Veggie IQ is collaborating on with Rooted?
This past year, Veggie IQ collaborated with Rooted through the creation of student video projects and student-initiated social media campaigns to improve the health of the local Latino community. Emma from Rooted facilitated an incredible workshop for students on how to utilize technology to create an engaging public health campaign and how to market it to a target demographic. Youth Scientists in the Veggie IQ Program conducted research on their questions of inquiry and decided how to highlight one aspect of what they learned through a video project. Some students created fun and engaging cooking demos sharing creative ways to include fruits and vegetables into everyday meals (such as avocado pie, colorful veggie tacos, zucchini chips, broccoli "fries" etc.). Other students made videos to encourage their peers and social networks to "rethink your drink," limit sugar intake, increase physical activity and prioritize mental health and high-quality sleep. We hope the impact of these videos improves the health of our community by increasing education around the links between good food and good health. We look forward to collaborating with Rooted more in 2022, as Veggie IQ aims to increase its reach among underserved students in grades K-12 from Santa Maria to Ventura.
What do you enjoy most about your work with Veggie IQ and the Santa Barbara community?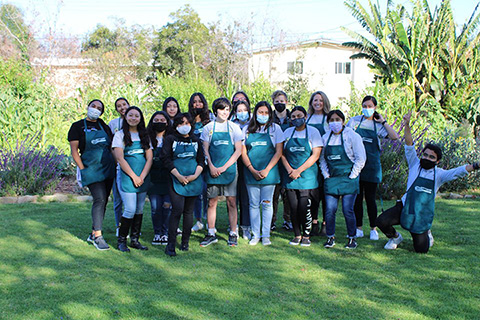 I have loved every second of being involved in Veggie IQ, from creating a project-based, highly interactive curriculum, to harvesting vegetables from local urban farms, to providing community outreach at a Farmer's Market Booth, to working side by side with passionate students from all over Santa Barbara County! Hands down my favorite part has been experiencing the impact of Veggie IQ on teen Youth Scientists. It truly has been an honor to watch how our students have become agents of change in their families and peer groups, and how they have created a ripple effect in the community – ultimately creating waves of change towards improved health. I have loved seeing Youth Scientists uncover and pursue their passions and intellectual curiosities while finding their voices and becoming scientists and leaders of the future. My role in leading Veggie IQ this past year has taught me that the diversity of the Santa Barbara community is our greatest strength, and I have learned that education and subsequent change is extremely impactful when being taught by students themselves from the community they are hoping to target.
How has nutrition played a role in your wellness journey? 
Nutrition and health have been big priorities in my day-to-day life for the past six years. It was initially a serious injury, which caused lots of inflammation in my body, that prompted me to consider nutrition as a form of therapy and a way to heal my body faster. I read book after book about the impact of food on all the systems in our body and was so compelled by the research, I decided to switch to a plant-based diet full of superfoods and packed with nutrients. Eating healthy brings me so much joy, and I love experimenting in the kitchen with fun plant-based recipes to share with friends and family. Science proves that food affects our hormones, our brain chemistry, our nutrient status, and other important chemical and biological functions. I like to think of every meal as a choice of my daily fuel and a determining factor in my physical and mental health. Food has such a profound impact on our lives, in addition to other important "ingredients" like exercise, good sleep, sense of purpose, community and connection, and time to do the things you love that light you up!
For me, it has been incredibly fulfilling to channel my passion for nutrition, education, wellness, and social justice into the Veggie IQ Program to inspire the next generation of Youth Scientists.
What is your favorite plant-based meal?
In recent years, I have developed a love for cooking and getting creative in the kitchen. My all-time favorite meal is sweet potato and veggie tacos with a bright salad including red cabbage, cilantro and lime, and homemade pinto beans. It is a well-tested and consistent crowd pleaser too!
Learn more about Veggie IQ by checking out their final compilation of Youth Scientist student videos here and Veggie IQ's end of year slide show here!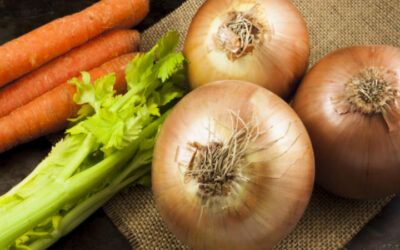 Certain herbs and vegetables build delicious flavors in our favorite dishes! Plant-based foods that create a strong,...
Supporting Our Work - We're currently an all-volunteer organization and we see incredible room and need to grow over the coming year. We understand that this time has enormous challenges for everyone, so while we'll be seeking support to help roll our vision forward, we're also thinking creatively to keep our costs low to efficiently build resources and deliver programming at low to no cost to our community. If you'd like to support our work, we hope you'll consider making a donation to one of our giving programs through our community partner, the Santa Barbara Foundation!