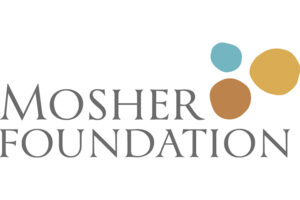 Rooted Santa Barbara County is spreading roots in 2022 thanks to a transformational grant from the Mosher Foundation! Rooted SBC's Board of Directors is honored to announce that the local grant-making foundation has awarded a $50,000 grant to support the growth of our bilingual nutrition and food-skills programming and outreach initiatives.
The Mosher Foundation's partnership is helping Rooted take strategic steps to advance our mission to optimize community health through whole food plant-based nutrition education and support. The Mosher Foundation is a prominent and active partner to healthcare organizations in Santa Barbara. The foundation's leadership and expanding commitment to food as medicine initiatives to improve and promote equitable health throughout our community is helping our organization further cultivate our work through meaningful partnerships and innovative programs.
"We are thrilled to be a part of Rooted Santa Barbara County's growth," stated Yvette Birch Giller, Executive Vice President of the Mosher Foundation. "We share a common vision for how food can be a significant driver for change in our community's health. Through their growing programs and collaborations, Rooted is already tipping the needle locally towards an expanded preventive focus.  Their work in the coming year will help ensure nutrition and food skills education is accessible and empowers our healthcare community and community members alike."
Funds from the Mosher Foundation's grant supports the development of an online learning platform, growth of our team and partnerships to ensure equity-driven, culturally significant bilingual programs and resources, expanded healthcare community outreach and partnerships, and plant-forward recipe development and curation.
"The Mosher Foundation's commitment to supporting Rooted is creating a new path forward in our healthcare community that expands collaborations, prioritizes prevention and nutrition, and helps make healthy whole food lifestyles more accessible – this is transformational for both our organization and our community," stated Beth Skidmore, MSACN, Chair of Rooted Santa Barbara County. "We have a strong, dedicated volunteer network and growing collaborations that have been powering our work and we're incredibly grateful for the resources to take significant strides to grow."
While leading national health organizations are recognizing the importance of prevention-focused healthcare, Rooted Santa Barbara County is the first and only local organization specifically focused on plant-based nutrition education and preventive health. Our resources are based on a growing body of research indicating that human health can benefit from more whole plant-based foods while reducing or eliminating highly processed and animal-based foods. Our goal is to make this information accessible to all Santa Barbara County residents, and their healthcare providers.
Our community-based nutrition and food skills programming and resources fill a critical gap. Rooted empowers county residents with the knowledge, confidence and resources to prioritize, prepare and enjoy whole plant-based foods to grow healthy equity and resilience, reduce medical expenses and medications and increase quality of life. As a collaborative hub, partner and resource for healthcare practitioners and direct service organizations, we do this through:
Low to no cost, bilingual, plant-forward nutrition and food skills education programs, tools, resources, and support; and
Community collaborations that ensure inclusivity and accessibility, healthy food access, healthcare community engagement, and culturally relevant support to improve health outcomes county-wide.
Rooted is on a mission to reduce the burden of chronic disease, optimize health, and help our County residents eat to thrive.
The Mosher Foundation is a philanthropic leader in the Santa Barbara community dedicated to growing effective education, healthcare and performing arts programs in the Santa Barbara area, with a focus on forging partnerships where Foundation support will make a significant positive difference within a relatively short period of time. We are honored to partner with the Mosher Foundation to advance plant-based nutrition and preventive health locally, and grateful for their belief in our mission. For more information on the Mosher Foundation, please visit MosherFoundation.org. For more information on our vision and programs, visit our mission, programming, and resources pages.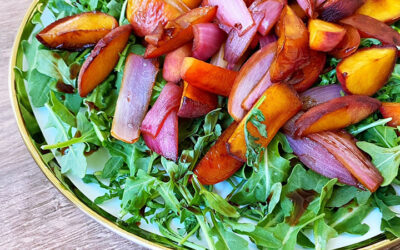 Caramelized Onions and Stone Fruit This recipe is always a hit. And it's also a big surprise for kids. They often...
Supporting Our Work - We're currently an all-volunteer organization and we see incredible room and need to grow over the coming year. We understand that this time has enormous challenges for everyone, so while we'll be seeking support to help roll our vision forward, we're also thinking creatively to keep our costs low to efficiently build resources and deliver programming at low to no cost to our community. If you'd like to support our work, we hope you'll consider making a donation to one of our giving programs through our community partner, the Santa Barbara Foundation!