We believe healthy people make strong communities.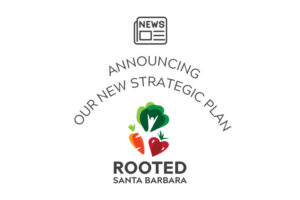 Our new Strategic Plan is rooted in this vision and was born of the experiences our community has faced in recent months and a growing network of collaborators passionate about community health! We would like to share our new map forward that will guide our organization over the next two years and reflect on how we got here.
First, A Little History
While the concept for Rooted was seeded in 2018, the following year in 2019, we formally came together and solidified our mission: To optimize community health through whole food plant-based nutrition education and support.
We began outreach, brought our founding leadership team together, and partnered with the Santa Barbara Foundation as our fiscal sponsor. In 2020, we publicly launched our organization in the early days of the pandemic. With the challenges of the time, we shifted our focus, expanded our team, and launched early partnerships that breathed new life into our start-up vision.
Launching a new initiative in an already full nonprofit space in Santa Barbara has its fair share of challenges, particularly given the uniqueness of the time as well as our focus – however, we've remained steadfast to fill a critical need in our community. Many of the leading causes of disease and death in our County are diseases and conditions that can be largely influenced by lifestyle factors – particularly the food we eat. While a growing wealth of research demonstrates the opportunity for plant-based lifestyles to dramatically reduce the risk and rates of all-too-common chronic diseases and conditions, there are limited resources in Santa Barbara County.
Growth and Collaboration
By early 2021, our team grew again, community partnerships began to form, and we expanded our reach.
The vision for Rooted was always to be a meaningful community resource built by a collaboration of individuals passionate about community health. Our Board includes community members with a range of expertise across the healthcare, nonprofit, marketing, public health, and environmental health sectors. They have put in countless hours, a great amount of heart and a commitment to teamwork to advance our mission with respect for the challenges, cultural significance, and opportunities around the foods we eat to ensure inclusivity, accessibility, and a meaningful impact for our community's health.
Leonie Mattison, EdD, MBA, a celebrated public health organization and talent development expert, joined our team and guided our leadership through a strategic planning process to set the stage for the next two years of work. This process helped us realign and focus our mission and  vision, and create a comprehensive strategic outline of our main focus areas, objectives, and impact goals for the next 24 months.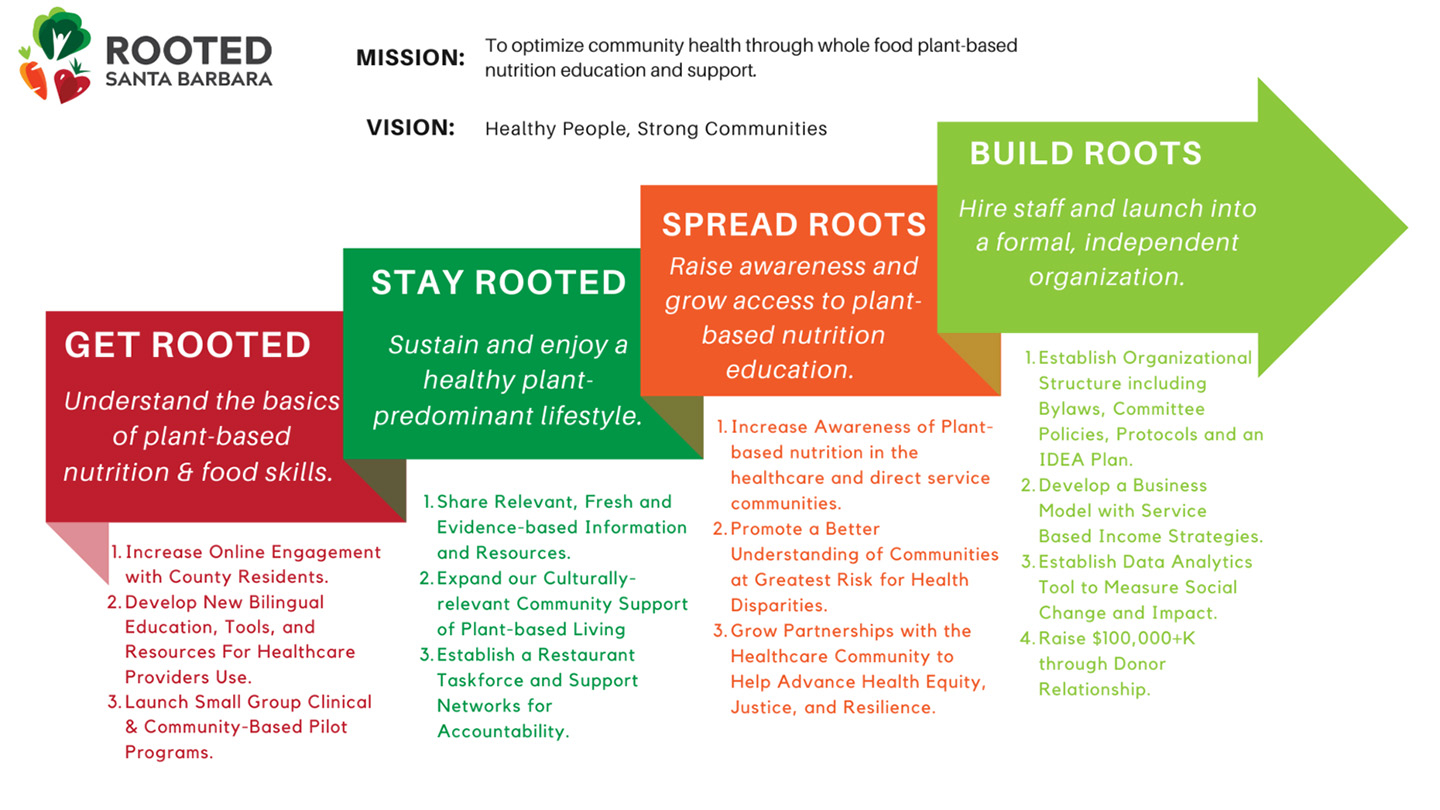 Through the plan, we set goals for our main program areas – Get Rooted, Stay Rooted, Spread Roots – and established a fourth focus area, Build Roots, to formalize and expand our organizational capacity and structure. Guided by this plan, our efforts will:
Chart our introduction of plant-based nutrition education to our community,
Create a network for sustainability and ongoing support,
Build a collaborative hub between our organization, direct service organizations, and the healthcare community, and
Establish our organization to raise funds and grow from a fiscally sponsored start-up to an independent 501c3 nonprofit.
"I'm impressed by the dedication of our team to develop our strategic plan, which sets the course for our organization's future and lays out specific goals and objectives that we'll work to accomplish over the next two years. Having everyone participate in the strategic planning and execution process fostered collaboration and created an opportunity for spurring a plant-based revolution that will positively transform lives. Guided by this plan, our efforts will focus on the importance and power of education, science, partnerships, and community to empower people to take a leading role in their health. Each goal and objective will:
Represent our move toward our vision
Reflect our mission and high-impact measurable and quantifiable actions 
Reveal opportunities for expansion, alliance, innovation, and financial sustainability
What our team has produced is truly groundbreaking and inspiring." – Leonie Mattison, EdD, MBA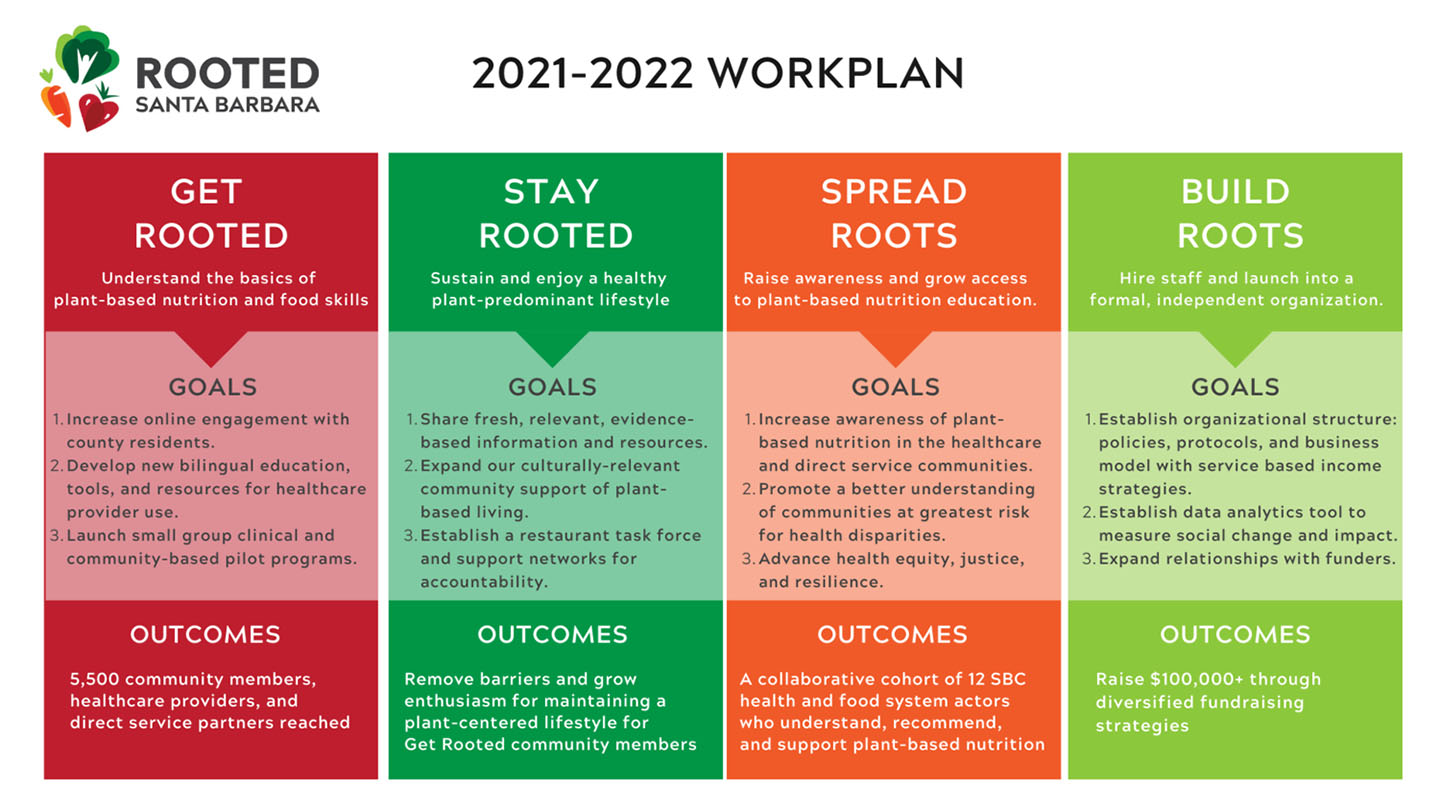 This is our path forward. We need your support! We are helping communities throughout Santa Barbara County eat to thrive, and we all have a role in this work. Here's how you can help:
Why Plant-Based?
Rooted is not just about eating more vegetables or local produce – although these are important and great places to start!
Our work empowers individuals and families throughout Santa Barbara County with the resources and support to make meaningful lifestyle changes. We educate and are building community around eating fruit, vegetables, whole grains, legumes, nuts and seeds, herbs, and spices as regular foundational components of an optimal lifestyle. Learning to enjoy and prepare, improving access to, and understanding the value of these wonderful foods is critical. We should be talking about this and working together to build plant-forward bridges like our community's health depends on it.
We welcome your support of our mission – Donate Today!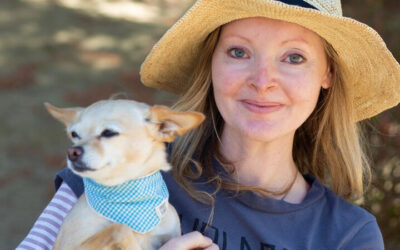 A growing network of community members is powering Rooted Santa Barbara - let's meet the team! Each month we're...
Supporting Our Work - We're currently an all-volunteer organization and we see incredible room and need to grow over the coming year. We understand that this time has enormous challenges for everyone, so while we'll be seeking support to help roll our vision forward, we're also thinking creatively to keep our costs low to efficiently build resources and deliver programming at low to no cost to our community. If you'd like to support our work, we hope you'll consider making a donation to one of our giving programs through our community partner, the Santa Barbara Foundation!