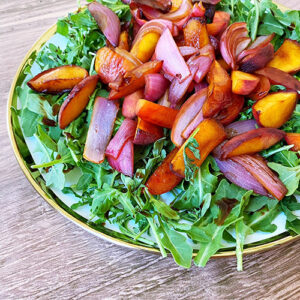 Caramelized Onions and Stone Fruit
This recipe is always a hit. And it's also a big surprise for kids. They often can't imagine cooking fruit, and serving it alongside a vegetable. The recipe is simple, and versatile. We used red onions and white nectarines. It would be just as good with white or yellow onions or even shallots. Peaches would be delicious, too. Apricots or plums would work in a pinch, but the comparable sizes of onions and peaches or nectarines make the dish look more appetizing. Another thing we love about this recipe is that it forces us to practice patience. It's one thing to be patient when you've put cookies in the oven; there's a certain amount of "out sight, out of mind." But when the onions and nectarines are sizzling right in front of you, it is hard to resist the urge to toss, turn, flip, and stir. Patience is a very good skill to practice. If we don't let them sit and sizzle, we prevent them from building their nice brown crust (Maillard effect).
Here are a few serving ideas for this yummy pile of sweet and savory produce:
• Top some crusty bread with cashew cheese and the onion-nectarine mixture.
• Add a layer to a salad. It pairs well with balsamic vinegar, sunflower seeds, almonds, and avocado.
• Add to a platter with rice or other grain, salty chickpeas and spinach for a Mediterranean-inspired dish.
The first time you make this recipe, we recommend two extra steps:
1. After you have cut the onions and nectarines, hold back a few slices of each. This will give you a chance to compare the cooked to the raw. How has the flavor changed? What about its structural integrity, color, aroma?
2. Once it is cooked, take a moment to drag your spoon through the sticky, brown, yummy syrup that has formed. This is sugar and water. Where did they come from?
Ingredients
1

large onion

2

large nectarines

Olive oil*

Salt and pepper to taste

* Oil-free: Try replacing olive oil for water and balsamic vinegar

this hasn't been tested, but a potential option to try!
Instructions
Slice onions into half moons.

Slice nectarines into quarter-inch thick wedges.

Heat olive oil – use enough to coat your pan. You can also use a large griddle for this recipe.

Once the oil is hot, add onions and nectarines. You can mix them all together, cook them side-by-side, or cook them in two batches.

Let them sit and sizzle. Resist the urge to turn, toss, or flip. They need to sit on the heat to caramelize – turn tasty brown. After several minutes, using tongs, carefully check to see if nectarines are browning. If so, turn them over. If not, wait for a few more minutes and check again.

Once they are all browned, remove from heat.

Serve immediately, or cool to add to salad.
Notes
* Oil-free: Try replacing olive oil for water and balsamic vinegar (this hasn't been tested, but a potential option to try!)
Nancy Martz is the Executive Director of Apples to Zucchini Cooking School, whose mission is to teach children and their families how to prepare delicious, nutritious, affordable meals made from real food. Join Apples to Zucchini Cooking School for live, in-person, outdoor classes! Visit www.atozcookingschool.org for more information and registration.