A growing network of community members is powering Rooted Santa Barbara – let's meet the team! Each month we're highlighting a new member of our Rooted community to introduce who they are, why they are passionate about plant-based nutrition, and how they're helping us to fuel our work to optimize our communities' health through the power of plants.
Meet Esron Gates!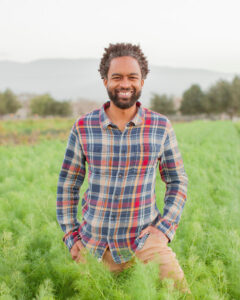 Esron Gates is a partner at Wealth Management Strategies in Santa Ynez, CA. He embraces a plant-based lifestyle as a foundation to health and wellness and loves working with local vegan chefs to develop recipes and how-to videos. Land stewardship has called him to help restore the monarch butterfly population, one milkweed plant at a time. His background in food systems, management, public speaking, and video and event production, paired with his passion for plant-based nutrition and bringing out the best in others make him a great fit for Rooted. Esron joined Rooted's External Affairs Committee in the Winter of 2021 to grow plant-based nutrition education throughout our county and make an impact on the community.
What inspired your passion for plant-based nutrition?
My inspiration primarily comes from health but is also shaped by political concerns. For Americans, one of the most common causes of death is heart disease, but the numbers are tripled for African Americans. I don't want to be another statistic, and through extensive research I learned that a plant-based diet would have many benefits for my health. Genetic modification, slaughter houses, and over fishing also make it difficult to support the meat industry. I believe that meat can be produced in a humane and sustainable way, but it is not a common practice.
What are some of the most compelling aspects of plant-based eating for you?
Thomas Campbell and T. Colin Campbell's book The China Study offers amazing research on how not consuming meat leads to a dramatic uptick in overall health. Since moving to a plant-based diet, I no longer feel hungry all the time and my body has time to heal and regenerate because it is not wasting time digesting meat products.
Is this passion purely personal or also related to your profession?
The movement can help us to address global issues of poverty and malnutrition. Growing plants takes less land and resources than growing animals. Plants could also become a reliable food source for space exploration. NASA is currently studying how to grow fruits and vegetables for astronauts at the International Space Station.
What benefits have you noticed since shifting to a plant-based diet?
I have been sleeping better, my stomach is more settled, and my skin is clearer. I'm also recovering faster after workouts.
What was one of the challenges of making the shift, and how did you overcome it?
I loved eggs. Milk and cheese were the easiest foods to remove from my diet, but eggs were tough. They are a staple for breakfast, my favorite meal of the day. I substituted eggs with beans and this helped me transition into the plant-based diet.
What advice would you give someone looking to be more plant-forward?
Do it! It will make a positive impact in your life and help you maximize your overall health and wellness.
For a full list of our Rooted team, please visit our Collaborators page!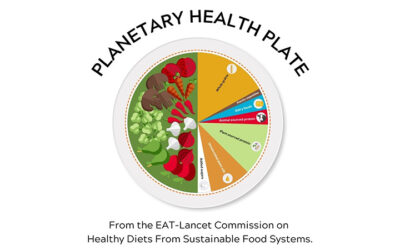 An international body of researchers have determined that a primarily plant-based food diet is the most optimal diet...
Supporting Our Work - We're currently an all-volunteer organization and we see incredible room and need to grow over the coming year. We understand that this time has enormous challenges for everyone, so while we'll be seeking support to help roll our vision forward, we're also thinking creatively to keep our costs low to efficiently build resources and deliver programming at low to no cost to our community. If you'd like to support our work, we hope you'll consider making a donation to one of our giving programs through our community partner, the Santa Barbara Foundation!