What do you think of when you hear "whole food, plant-based?" Is it a vegan diet? Is it extreme dieting? Does it sound like just another dietary option, like paleo or keto? You may be surprised to learn that a whole food-plant-based lifestyle is not about giving up or restricting foods. It's an opportunity to power our plates for our health.
Here, Santa Barbara plant-based nutrition educator and food-skills instructor Emma Malina gives us a one-minute primer on whole food plant-based nutrition.
A whole food, plant-based lifestyle is an evidence-based approach to eating a range and rainbow of healthful, delicious plant-based foods. This video by our friends at
NutritionFacts.org
, "Dining by Traffic Light," speaks to why our organization focuses on plant-centric plates and how to understand which foods to prioritize to grow the most opportunity for health.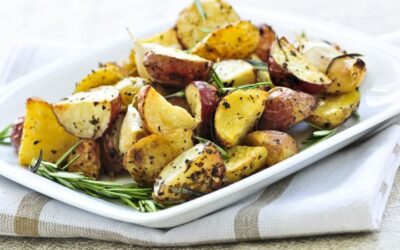 Enjoy this satisfying snack or side by local recipe author Rashmi Sethi! These delicious potatoes layer flavors for a...
Supporting Our Work - We're currently an all-volunteer organization and we see incredible room and need to grow over the coming year. We understand that this time has enormous challenges for everyone, so while we'll be seeking support to help roll our vision forward, we're also thinking creatively to keep our costs low to efficiently build resources and deliver programming at low to no cost to our community. If you'd like to support our work, we hope you'll consider making a donation to one of our giving programs through our community partner, the Santa Barbara Foundation!