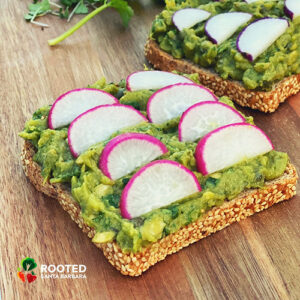 Avocado Toast
There's a reason why avocado toast is on every brunch menu from here to Barcelona, it's DELICIOUS! My husband and I have spent years crafting the perfect combination.
This avocado toast is easy and very good for any occasion whether it is breakfast, lunch or dinner.
You are also including more than 6 different plants into just one of your meals. Remember the greater diversity of plants you eat, the healthier your gut (digestive system) will be.
You can add anything else you want or remove what you don't like, get creative and experiment with different plants until you find the avocado toast perfectly designed for you and your family.
Ingredients
2-4

slices

of toast - preferably whole wheat bread

1

avocado

2

tsp

cumin

2

tsp

garlic powder

salt and pepper to taste

1

handful

broccoli sprouts

chopped

1

tsp

capers

1

handful

chopped cilantro

you can also use green onion if you prefer or both

pumpkin seeds

finely chopped radish to put on top

it gives a beautiful color and you are adding more plants to your plate
Instructions
Cut the avocado and smash to whatever texture you prefer.

Add the cumin, garlic powder, salt, and pepper.

Cut the broccoli sprouts very small, mix them with the avocado mash.

Add the capers, chopped cilantro and pumpkin seeds.

Divide the mixture between the toasts.

Top with sliced radishes.

Enjoy.
Notes
Dare to add more things if you want: if you want it spicy you can add a little hot sauce. You can also add a little balsamic.
Fun fact: Broccoli sprouts contain a compound called Sulforaphane, with its concentration being between 20-100 times more than a full head of broccoli.
---
Daniela Cadavid, DDS is a general dentist in Santa Barbara, CA who believes strongly that ideal dental health is directly linked to a healthy lifestyle, which starts with proper nutrition. She, along with her family, enjoys the benefits of living plant-based. Daniela is fluent in both English and Spanish, and is more than happy to spread her passion for plant-based nutrition with the Santa Barbara community.