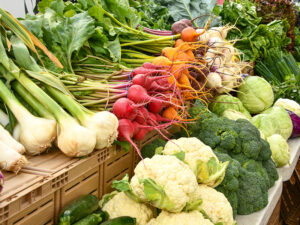 Welcome to Rooted Santa Barbara! We're here to fill a critical gap in local healthcare: preventive health through whole-food, plant-based nutrition. We're on a mission to improve our community's long-term health, vitality and collective access to and enjoyment of healthy, whole foods through low-to-no-cost nutrition and food skills education and a network of community support to encourage healthy, plant-centered lifestyles.
We believe optimal health is rooted in prevention.
We believe people ultimately want to feel good & healthy.
We believe people have the power to change.
We believe many chronic health conditions, once thought to be hereditary, can often be prevented.
We believe that when given education, tools and support, people will choose simple lifestyle changes over a lifetime of expensive prescriptions and invasive surgeries.
We believe in the power of a healthy and sustainable plant-based lifestyle.
We are rooting for you!
Better Quality of Life Through Prevention
Nearly 70% of today's leading causes of death are chronic illnesses that are largely lifestyle-related – including what we eat. Evidence is continuing to mount for the power of a whole food, plant-based diet to help prevent, suspend and, in some cases, even reverse many of these serious conditions, including:
Heart disease
Diabetes
Certain cancers like colorectal, breast and prostate cancers
Alzheimer's Disease
Inflammatory Arthritis
Many auto-immune disorders, and more.
Adopting a lifestyle that encourages optimal health and lowers your risk for serious illness can also mean less money spent on prescriptions and other medical costs – and can even help save money at the grocery store!
Ok, so What is Whole Food, Plant-Based Nutrition?
A whole-food, plant-based diet (WFPB) is an appropriately planned diet filled with nutrient-dense, fiber-rich, super delicious plant-based foods – fruit, veggies, legumes, grains, nuts and seeds – in as close to their natural state as possible. This likely includes a lot of foods that you're already eating – and enjoying! And in Santa Barbara, we're fortunate to have many of these amazing health-promoting foods growing very close to our community. Part of our vision is to help make both plant-based foods and plant-based eating more accessible to all of our neighbors.
Does it have to be all plants? There's a growing weight of science that shows us that the more whole and minimally processed plant-based foods we eat the better while an appropriately planned whole food plant-based diet is the healthiest approach.
We're here to help you enjoy eating more plants wherever you are on the plant-eating spectrum and we're also here to help you understand the value of an entirely whole food, plant-based lifestyle. A significant part of our overall health is what we eat every day.
We're Here to Support You
We know you may be thinking that this will be expensive and a lot of extra work – and that it sounds restrictive and, frankly, unenjoyable. That's where we come in!
We'll be building resources and partnerships and bringing Santa Barbara online and in-person low-to-no-cost programming to help our beloved community learn and experience the joy of plant-based foods. Here's what we hope you'll experience by engaging with us:
A basic understanding of nutrition
Plant-based kitchen confidence
More enjoyment of plant-based foods
Ability to manage and even shrink your grocery bill with plant-based staples
Simple recipes that put some pep in your plate
More adept at making lifestyle choices that help you feel your best and promote longevity
The support of a community that's rooting for you
A healthcare community that is ready to help you on your plant-forward journey.
We all need a community that's rooting for us, the support of our healthcare team, and the education, tools, and sense of community to know that our best healthy futures can literally be in arms reach – on our plates!
Launching During a Pandemic
Even while this pandemic is front of mind, chronic disease still persists and those with serious underlying conditions may be at an increased risk for poorer outcomes for COVID-19. Our pocketbooks are tighter. Food insecurity is rising. The health of our community is more important than ever.
Putting our health first can feel especially critical – and especially overwhelming. We're launching now when our community needs this the most. We're here to help you with information and resources to shift your lifestyle plant-forward – beginning with meeting our community where you're at right now – online, at home.
Connect with Us – There's More to Come!
In the coming weeks, we'll continue building our online resources and develop online programming that will eventually evolve into in-person workshops, community events, and speaker series. We'll also be developing partnerships with our healthcare community so that they have the resources they need to support you.
To stay connected, we'd like to invite you to check out the pages on our website, give us a follow on Instagram or Facebook, and join our newsletter to stay tuned for more to come.
Rooted Santa Barbara is a public health initiative that's focused on the individual.
We're a stronger community when we're all healthy!
Photo Credit: Kristen Weiss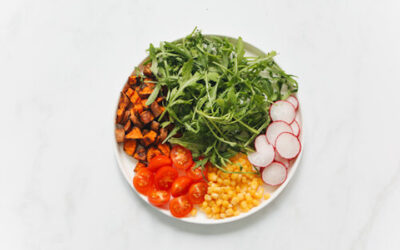 Veggies. Fruit. Whole grains. Legumes. Nuts and Seeds. The staples of a whole-food, plant-based lifestyle! These foods...
Supporting Our Work - We're currently an all-volunteer organization and we see incredible room and need to grow over the coming year. We understand that this time has enormous challenges for everyone, so while we'll be seeking support to help roll our vision forward, we're also thinking creatively to keep our costs low to efficiently build resources and deliver programming at low to no cost to our community. If you'd like to support our work, we hope you'll consider making a donation to one of our giving programs through our community partner, the Santa Barbara Foundation!