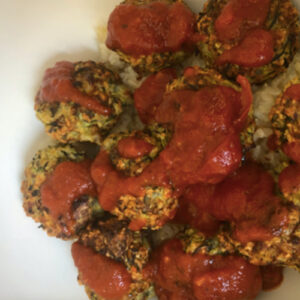 Zucchini "Meat" Balls
My husband and I started perfecting this recipe many years ago (more or less 5 years ago).
It all started even before we decided to become 100% plant-based. Every Monday we did "Meatless Monday" and this was pretty much how our transition began.
Thinking back, it's very funny because my husband doesn't like pasta. He only likes spaghetti and meatballs. I never liked meatballs, but we decided to give it a try, and the recipe turned out delicious.
With a little help from Pinterest we found the original recipe, but we have modified it over time. The original recipe called for milk, eggs, and cheese but we chose not to use those ingredients. There were several attempts, but in the end we achieved a great result. This recipe is one that all members of the family will enjoy; it doesn't matter if they are plant-based or not.
Enjoy!
Ingredients
3

medium zucchinis

2

tsp

garlic powder

¼

cup

basil

finely chopped

1

flaxseed egg*

1

cup

panko bread crumbs

¼

cup

nutritional yeast

salt and pepper to taste

marinara sauce
Instructions
Grate the zucchini, then drain as much water as possible with a cheesecloth or a thin towel.

Put the drained zucchini in a large bowl and add salt, pepper, garlic, basil, flaxseed egg, panko and nutritional yeast. Mix everything with your hands and start forming the meatballs, putting them on a baking sheet.

Once you finish forming the meatballs, put them in the freezer for 10 min to make them firmer.

Cook them in an air fryer for 10 min each side at 350F temperature. If you do not have an air fryer, you can panfry them with a little oil, or you can put them in the conventional oven at 400F for 15 min each side.

Once they are golden brown on all sides, serve them over pasta, rice, quinoa, or noodles.

Add the marinara sauce on top, you can add more nutritional yeast and/or cashew parmesan.
Notes
*1 flax egg = 1 tablespoon ground flaxseeds + 2-3 tablespoons of water, mix and let set for 10 minutes
---
Daniela Cadavid, DDS is a general dentist in Santa Barbara, CA who believes strongly that ideal dental health is directly linked to a healthy lifestyle, which starts with proper nutrition. She, along with her family, enjoys the benefits of living plant-based. Daniela is fluent in both English and Spanish, and is more than happy to spread her passion for plant-based nutrition with the Santa Barbara community.