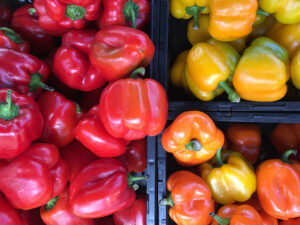 National nutrition guidelines are continuing to shift plant-forward! The American Cancer Society recently updated its guidelines for diet and physical activity for cancer prevention. Cancer is often thought to be largely a result of genetics – but there are lifestyle interventions that can help us lower our risk. Maintaining a healthy weight and eating a plant-rich diet are key – while red and processed meats, sugary beverages, and highly processed foods should be avoided. Following are their updated recommendations direct from the study!
Achieve and maintain a healthy body weight throughout life.

Keep body weight within the healthy range and avoid weight gain in adult life.

Be physically active.
Adults should engage in 150‐300 min of moderate‐intensity physical activity per week, or 75‐150 min of vigorous‐intensity physical activity, or an equivalent combination; achieving or exceeding the upper limit of 300 min is optimal. Children and adolescents should engage in at least 1 hr of moderate‐ or vigorous‐intensity activity each day. Limit sedentary behavior, such as sitting, lying down, and watching television, and other forms of screen‐based entertainment.
Follow a healthy eating pattern at all ages.

A healthy eating pattern includes:

Foods that are high in nutrients in amounts that help achieve and maintain a healthy body weight;

A variety of vegetables—dark green, red, and orange, fiber‐rich legumes (beans and peas), and others;
Fruits, especially whole fruits with a variety of colors; and
Whole grains.

A healthy eating pattern limits or does not include:

Red and processed meats
Sugar‐sweetened beverages
Highly processed foods and refined grain products
It is best not to drink alcohol.

People who do choose to drink alcohol should limit their consumption to no more than 1 drink per day for women and 2 drinks per day for men.
Check out the full report here.
Interested in learning more about nutrition and cancer? Here are a few resources that can help you get started:
Resources provided are for educational purposes – always consult with your healthcare team for guidance on your personal health profile and on specific conditions, treatment and lifestyle changes. In addition to these resources, the Physicians Committee for Responsible Medicine has a brief fact sheet that can be a great way to start a discussion on nutrition and cancer with your doctor – Foods for Cancer Prevention.
Source:
Rock, C.L., Thomson, C., Gansler, T., Gapstur, S.M., McCullough, M.L., Patel, A.V., Andrews, K.S., Bandera, E.V., Spees, C.K., Robien, K., Hartman, S., Sullivan, K., Grant, B.L., Hamilton, K.K., Kushi, L.H., Caan, B.J., Kibbe, D., Black, J.D., Wiedt, T.L., McMahon, C., Sloan, K. and Doyle, C. (2020), American Cancer Society guideline for diet and physical activity for cancer prevention. CA A Cancer J Clin. doi:10.3322/caac.21591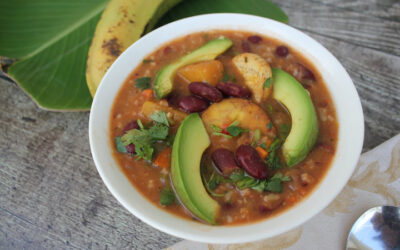 Carribean Asopao Soup Asopao is a rice soup prepared in many parts of the Caribbean. This is our plant-based version...
Supporting Our Work - We're currently an all-volunteer organization and we see incredible room and need to grow over the coming year. We understand that this time has enormous challenges for everyone, so while we'll be seeking support to help roll our vision forward, we're also thinking creatively to keep our costs low to efficiently build resources and deliver programming at low to no cost to our community. If you'd like to support our work, we hope you'll consider making a donation to one of our giving programs through our community partner, the Santa Barbara Foundation!