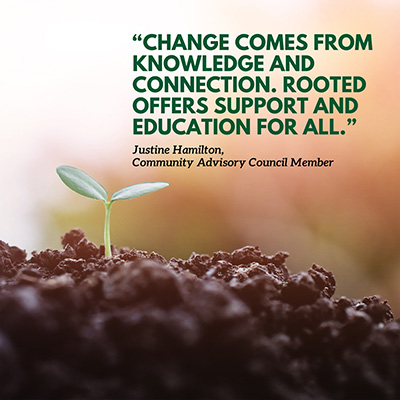 Every project we undertake at Rooted Santa Barbara County springs from the passion, expertise, and leadership of dedicated individuals who donate their time to our cause. Over the past year, Rooted has been heartened by our rapidly growing support network of volunteers, partnerships, and funders that have helped us spread our roots further out into the community. As part of this growth, we've more than doubled the size of our Advisory Councils since 2021, welcoming ten new experts that will help guide and champion Rooted's mission going forward.
"Rooted Santa Barbara County's mission of supporting the long-term health and vitality of the region is an easy one to get behind," says Martin Tull, Deputy Director of the American College of Lifestyle Medicine. Martin joined Rooted's National Advisory Council earlier this year. "Hopefully other communities can also learn from these innovative 'food as medicine' education and programs underway."
Rooted has three active Advisory Councils, each tasked with providing specialized advice, expertise, and support to Rooted's Steering Committee and staff. Our Community Advisory Council helps build local community support and raise the visibility of Rooted's mission and programming, particularly among residents who may not have adequate access to health and wellness resources. Rooted's Health and Nutrition Advisory Council expands awareness and knowledge of plant-based eating as a critical lifestyle option for disease prevention and treatment within the local healthcare community. Our National Advisory Council serves to endorse and support Rooted's mission – and the benefits of plant-based eating – bringing the national movement local.
Justine Hamilton, a local community leader and ICF Business and Life Coach, is a new member of our Community Advisory Council. "I was inspired to join Rooted because there is so much data showing that plant-based eating equals longevity and a healthier life, and we all have a right to living optimally," she says. "Change comes from knowledge and connection and Rooted offers support and education for all."
Thanks to support from our Advisory Council members, along with Rooted's Board and key partners, in the last year we've been able to host dozens of virtual nutrition and plant-based cooking workshops, produce educational pamphlets and guides in both English and Spanish, and collaborate with key local health and direct service organizations to expand access to plant-based nutrition. Reaching non-English speaking communities in Santa Barbara County is a key goal for Rooted, and we are developing bilingual nutrition curriculum, virtual learning opportunities and jumpstarts, education programs and nutrition materials that are relevant to our local Hispanic residents. We are grateful for the participation of community leaders like Health and Nutrition Council Member Mary Conneely, a health educator and lead Promotores whose passion is to support and educate Latino communities about plant foods so that they can understand the health benefits of plant-based diets and live a longer life.
"I am thrilled to join Rooted Santa Barbara's advisory council and look forward to creating lasting impact in our communities and specifically the Latino communities that don't often have access to plant-based diets," says Mary.
Rooted's Advisory Council members not only provide expert advice to our team but also serve as ambassadors for healthy plant-based eating more broadly. For National Advisory Council Member Mark Oliver, President and creative director of Mark Oliver, Inc., the health of individuals in our communities both locally and nationally has played a central role in his career for over three decades. "As an advocate and marketer of organic and natural food products, Rooted Santa Barbara is a natural next step for me to help assure that people from all walks of life in my local community have the access, tools and resources they need to help themselves and others lead a healthy, fulfilling lifestyle."
We are thrilled at the diversity of backgrounds, interests, and expertise embodied in our Advisory Council members, and look forward to meaningful conversations and idea generation with this talented group of community leaders. Along with Martin, Justine, Mary and Mark, we are also honored to welcome Merryl Brown, Ernesto Paredes, Ginger Salazar, Brett Matthews, Ryan Arnold, MD, Lacey M. Baldiviez, Ph.D., and Heidi K. Lucas, ND, FABNO to our advisory councils in 2022!
See a full list of Rooted Santa Barbara County's Advisory Council Members (as well as Board Members and Partners).
Want to know how we got here? Learn how Rooted started.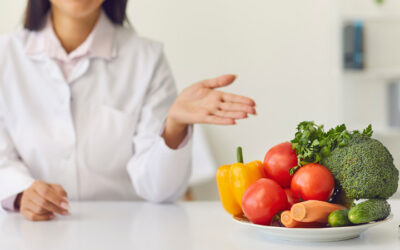 Researchers are taking an interest in "food as medicine" programs and the role these programs could play in our...
Supporting Our Work - We're currently an all-volunteer organization and we see incredible room and need to grow over the coming year. We understand that this time has enormous challenges for everyone, so while we'll be seeking support to help roll our vision forward, we're also thinking creatively to keep our costs low to efficiently build resources and deliver programming at low to no cost to our community. If you'd like to support our work, we hope you'll consider making a donation to one of our giving programs through our community partner, the Santa Barbara Foundation!