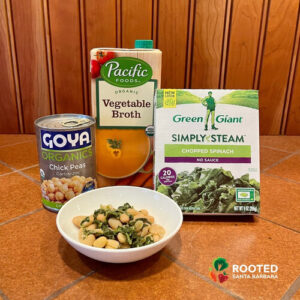 Sam's Beans and Greens
I'm always looking for new ways to sneak a few extra healthy ingredients into my cooking. You will definitely find both beans and greens in any pasta dish I make at home, and I do love a handful of arugula on top of my favorite flatbread. It's great when you have time to make a big salad with all the colors of the rainbow, but in the cooler months I find myself looking for warmth and comfort in hot meals. I started making my beans and greens side as a way to add some nutrition to easier meals or "treat meals" like a veggie burger.
This recipe can be as simple or as nuanced as you like, costs between $2-6 to make depending on if you use dried beans or canned and frozen greens or fresh, and is super customizable. What's more, you can batch cook it and store it in the fridge for about 5 days. My family likes this one better the second day, when all the flavors have mingled.
Ingredients
Beans

A heaping ⅓ cup of dried beans OR a 15oz can of beans. My family loves Cannellini beans for this one they have a mild flavor but the perfect amount of fat to add richness to the dish.

Chopped Greens

Fresh or frozen will work here. I prefer spinach for this dish because the leaves are tender and require less cooking but I've also used kale and spring mix. If you have some fresh greens that are looking a little tired for a salad, this is the perfect way to make sure they don't go to waste! You'll want at least a cup of fresh as the leaves will shrink, at least ½ cup frozen. If you love your greens, go ahead and add more!

Vegetable Broth

I use a low sodium veggie broth but you can also use a bouillon cube or a teaspoon of bouillon paste. If you don't have either, some water and spices will do the trick - I recommend a teaspoon each of garlic and onion powder with a tiny dash of salt and pepper to taste. I use ¼ cup of liquid, just enough to cover the bottom of the pan.
Instructions
Prepare beans for cooking - for dried beans, check the instructions on the bag to ensure proper soaking and rinsing. For canned, rinse well and put in a medium saucepan or small pot.

Add vegetable broth or water and any seasonings, start cooking on low.

Prepare greens - chop fresh greens and put on top of beans in pot, once the beans start to simmer, mix periodically until hot. I like to get it to a simmer.

Let stand for a few minutes so the beans absorb most of the veggie broth, stirring once or twice.
Notes
While we love the Cannellini beans, this recipe will work with any beans! A drier bean (like back beans) may require an extra splash of liquid. Get creative and see what your family likes best.
You can add more veggies if you have the time - sauteed onions, roasted red peppers, and crushed or diced tomatoes are our favorites.
Serve as a side, over rice or pasta, or even on toast for breakfast!
---
Samantha Haentjens is a long-time plant enthusiast who worked with Rooted Santa Barbara as a Steering Committee member and marketing consultant.