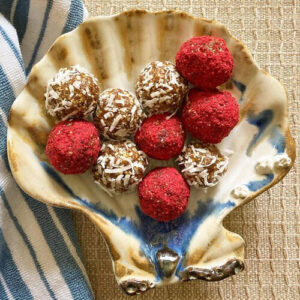 Simple Date Bites
What's better than grabbing a quick snack on the way out the door or to the beach. On a hot summer day the last thing you want to do is warm your house by turning on the oven. Nancy Martz of Apples to Zucchini Cooking School's Date Bites are the perfect simple summer snack. These naturally-sweetened bites are also a great treat for gatherings as they are one-touch. Put them in a little package and gift these sweets for any occasion, like birthdays or Valentine's Day!
You may already have everything you need on hand - the basic recipe is nuts or seeds, dried-fruit and any flavor of your choice! Here are a few flavor combinations we love:
• Chocolate Coconut
• Cinnamon and Ginger Spice
• Date and Strawberry What flavor will you make your bites?
Ingredients
Must-haves:
1

cup

dried fruit

½

cup

nuts or seeds

½

tbsp

flavor

or less, see below

½

cup

freeze-dried fruit

optional
Fruit:
Dates are the best for making bites that will easily roll into a ball.

Apricots add a nice tangy flavor.

Cranberries add a festive color.

Mix any dried fruits until you have one cup!
Nuts or seeds:
Nuts that work well are almonds, peanuts, cashews, pistachios, and walnuts

If using a nut flour

reduce to 1/3 cup

For a nut-free version

use sunflower seeds or pepitas.
Flavors:
Coconut, cocoa powder, candied ginger, ground ginger, cinnamon.

(If using ground ginger and/or cinnamon, use 1 Tbsp of the spices combined - ie. 1/2 Tbsp ginger, and 1/2 Tbsp cinnamon)
Freeze-dried fruit coating:
Place fruit in processor and process until powdered.

Roll bites in powder.

Strawberries and raspberries make red balls.

You can also roll in coconut flakes or cocoa powder!
Instructions
Grind nuts in food processor, transfer to large bowl.

Grind dried fruit in food processor. Use spoon or spatula to loosen from sides of mixer bowl.

Add ground nuts and flavoring to the mixer. Process until mixture sticks together. Taste and adjust flavor as needed.

Transfer the whole mixture back to the large bowl. Grab small amount. Squeeze together in your palm, then squeeze with fingertips. Finally, roll into a ball about the size of a marble.

If using freeze-dried fruit coating, roll bites in powder for a fancy, tasty finish.
Notes
Try them frozen for a cool summer treat!
Get creative and mix up your toppings and flavors!
---
Nancy Martz is the Executive Director of Apples to Zucchini Cooking School, whose mission is to teach children and their families how to prepare delicious, nutritious, affordable meals made from real food. Join Apples to Zucchini Cooking School for live, in-person, outdoor classes! Visit www.atozcookingschool.org for more information and registration.